Hope Rises For A' Ibom Youths As Gov's Wife Launches Pet Project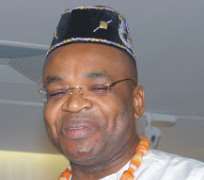 More than forty Youths of Akwa Ibom State have benefited from the Family Empowerment And Youths Reorientation Programme (FEYReP) a pet project of the Governor's wife Mrs Martha Udom Emmanuel.
The beneficiaries smiled home with various items ranging from hair dressing equipment, sewing machines, fashion designing and barbing salon kits, to Generating sets.
Inaugurating the project, Mrs Martha Emmanuel said the occasion marked the crystalization of her age-long vision to improve the living standard of women particularly the teenage mothers and to give pep on their moral values.
The Programme, according to her, is to improve the family life and prevent homes from disintegration through a well thought out plan of Empowerment .
Mrs Emmanuel stressed that the programme also seeks to stem the tide of teenage pregnancy and encourage girl child education adding that empowerment of women impact positively on the society.
This, according to her, informed her decision to select the beneficiaries through a random survey of the thirty one local government areas .
Governor Emmanuel, in his remarks congratulated his wife for initiating the project. He described it as a soothing balm to different homes stating that it is geared towards touching the lives of youths of all ages and gender.
He particularly called on the women to align themselves with the Programme as they are the pillars of the society and expressed optimism that the Programme will launch them into productive and meaningful lives.
Setting the tone for the event, the Commissioner for Women Affairs And Social Welfare Dr Glory Edet, said that the Programme is a window to delivering life touching packages that will improve the well being of the people and advised the beneficiaries to make good use of the items given them to earn a living.
Also, the Chairman of the occasion Barrister Dorathy Ufot SAN, in her speech extolled the vision of the Governor's wife in tackling the menace of girl child going into early motherhood and the wanton disintegration of family bonds. She commended the first Lady for her visionary disposition in changing the fortune of women through her pet project.
Goodwill messages commending the vision of the project and the need for it sustainability came from wife the Senate Minority Leader Mrs Ekaette Unoma Akpabio, immediate past Deputy Governor Lady Valerie Ebe and Vice Chancellor University Of Uyo Professor Comfort Ekpo.