A' Ibom PDP Boss, Clergy Expresses Joy At Guber Tribunal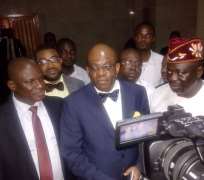 The chairman of the PDP in Akwa Ibom state Obong Paul Ekpo has expressed satisfaction with the ongoing tribunal, expressing the belief that in the end only truth will prevail.
Obong Ekpo told newsmen on Tuesday at the FCT High Court, Abuja, venue of the tribunal that he was impressed because gradually the truth about the credible conduct of the April election was being unveiled.
Ekpo advised the people of State to continue supporting the govenrment of Mr Udom Emmanuel in order to bring more developments to the state.
Also speaking a Pastor with the Qua Iboe Church in Abuja Rev. Samuel Ebukiba said as a concerned Akwa Ibom son, he was interested in the progress of his state which is why he finds time to attend the proceedings.
Rev Ebukiba was confident that the God will ensure the upholding of truth by the tribunal and urged Akwa Ibom people to continue keeping faith with God.
The tribunal which has entered the first day of defense by the second respondent, Akwa Ibom PDP, had previously concluded hearing on the defense as 19 witnesses testified in support of Governor Udom Emmanuel that Elections were held all over the state.
Speaking with reporters at the end of proceedings on Tuesday, counsel to Governor Udom Emmanuel, Chief Paul Usoro said that he was satisfied proceedings and the consistency of te witnesses who have maintained that the April 11 elections followed due process in the State.
Four PDP Witnesses, Barr Chris Okorie, Bishop Andrew Uwanta from Etinan, Dr. Anthony Effiong Usoroh of Ikono and Mr Justus Emmanuel from Ikot Abasi who were all PDP local government collation agents attested that there were free elections in their local government areas.
Mfonobong Ukpong
Media Directorate
Akwa Ibom State Divine Mandate
www.divinemandateaks2015.org