USAID Is Empowering Youths With Initiative Programme In Education And Agriculture In The North East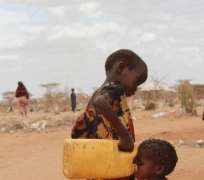 The United State Agency for International Development is implementing initiative in health, education and agriculture to empower youths, who are vulnerable in the society.
The initiative which has commenced in states of the North east including Adamawa, is a four year project.
Country representative of USAID, Lisa Freeman, said the body is in Adamawa since two thousand and fourteen while its objective is to address the root causes of insurgency.
she narrated that youths in seven local government areas of the state are engage in peace initiative and is willing to partner with relevant organs to inculcate positive values in the youths.
The country representative pointed out that USAID has renovated a school in Gombi as a pilot project who would be replicated in other local government areas affected by insurgency adding that other areas of need are been looked into.
Governor Muhammadu Umaru Jibrilla in his remark thanked USAID for its intervention especially in the donation of ten billion naira to be shared among three states in the north east.
He noted that the state is not bouyant enough to go into partnership but appealed for support.
Also speaking Secretary to the State Government, Doctor Umar Bindir said the state government has made avilable five hunded million naira and additional sixty billion naira from the Central Bank of Nigeria to address critical areas such as micro entrepreneurship among others.
He assured that the state government has targeted twenty fifteen September to ensure the return of all IDPs to their homes.