Omoni Oboli, Odunfa, Punch Editor, Entrepreneurs Laud YBLN Launch, Amidst Massive Turnout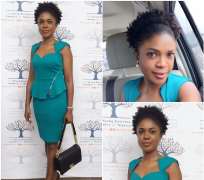 Nollywood actress, Omoni Oboli, Temitayo Etomi, a 2014 Mandela Washington Fellow, Founder/CEO, Digital Jewels, Mrs. Doyin Odunfa, the Founder/Principal Partner, George Etomi & Partners, Mr. George Etomi and Country Partner, Pricewaterhouse Coopers, Mr. Uyi Akpata were among prominent personalities that grace the launch of Young Business Leaders of Nigeria (YBLN) at the Muson Center in Lagos recently.
YBLN is a network of 'young business leaders' established to evolve creative methods of providing 1.2 million jobs in Nigeria; to reduce the rate of unemployment by 3% by December 2016 and 25% by December 2020, was indeed impressive.
Speaking at the event, the host, Temitayo O. Etomi, a 2014 Mandela Washington Fellow shared her experiences within and outside the country.
While speaking, Etomi unveiled the Aspiring Entrepreneurship Programme, which is aimed at providing amazing opportunities for young Nigerians.
"The programme has been scheduled for September 2015. 20 young people will be picked from the north and brought to Lagos to experience business skills, marketing and finance. They will have the opportunity to visit real business locations and interact with business owners on a one-on-one basis. They will be in Lagos for eight weeks. We are targeting 1,000 entrepreneurs by the end of 2017," she explained.
She also unveiled the 'Employability Master Class,' which will address skill deficit in Nigerians. She enjoined those looking for employment to register online on the organisation's website, www.yblnigeria.com .
One of the highlights of the event was the interactive session, which was moderated by Nigeria's youngest Editor of a national publication, Toyosi Ogunseye.
The panelists invited on stage for this session included the Founder/CEO, Digital Jewels, Mrs. Doyin Odunfa, the Founder/Principal Partner, George Etomi & Partners, Mr. George Etomi and Country Partner, Pricewaterhouse Coopers, Mr. Uyi Akpata.
During this session the seasoned professionals responded to series of questions from Ogunseye that bordered on several issues including the challenges of finding the right employees in a business environment by organisations.
Mrs. Odunfa also spoke on the issue of funding and how this is sometimes overemphasized.
"It is time for Nigerians to start taking advantage of opportunities. Funding is not the only problem Nigerians have to deal with when it comes to starting businesses. The truth of the matter is that funding chases good ideas. There are sources of funds that exist outside the bank" Odunfa enthused.
She added that by spending enough productive time on the internet, there is nothing that cannot be learnt. "It is free," she added.
"You must be prepared for opportunities so that when they come, you are prepared. It is also important to get a mentor or to provide mentorship to others depending on the side of the fence that you find yourself."
Responding to one of Ogunseye's questions, Mr. Etomi noted that there are massive opportunities via sports and shared a true life story of he once initiated a move that eventually resulted in a recurring decimal of opportunities for young boys who were very passionate about sports adding that such things need to be replicated.
Fielding a question from Ogunseye, Mr. Akpata said, "It is not about what you do. It is about doing it right and doing it in a way that makes you stand out."
It should be recalled that in her own way of supporting the event, Nigerian actress and filmmaker, Omoni Oboli had promised guests and participants special gifts and true to her words, she handed out free copies of her multi award-winning movie, 'Anchor Baby.'
Omoni Oboli impressed all present with the depth of her speech hammering on a broad section of issues.
"A job is not necessarily sitting behind a desk. We live in a country where people ask you to get what they call a 'normal job' to make them feel good about themselves. Parents like to say my son/daughter is a lawyer, a doctor, an accountant and so on... Nigeria has a lot of people. Dangote knows that. He sells sugar and millions of people consume sugar every day.
"There is so much information available on the internet. Learning must be continuous. Only then can we continue to expand our ideas and think outside the box. Look at Nollywood for example; there are millions of jobs in Nollywood; cooks, drivers, make-up artistes and so on. The problem is that too many people want to be D'banj, Omotola, Genevieve and others. They fail to realise that there are tons of other opportunities behind the scene. Formal education is priceless but should never hold you in bondage. Many go to school but are not educated or knowledgeable enough to add value to an establishment. We must have a sense of responsibility."
Singer, Sound Sultan was also at the event.
OMONI AGAIN
OMONI.JPEG