Kidnap Of Dornu Kogbara Underscores Breakdown Of Security In R/S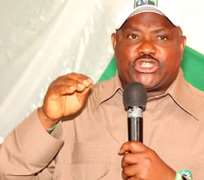 The All Progressives Congress, APC, Rivers State chapter is in great pains over the abduction of renowned essayist /columnist, Ms Dornu Kogbara last Sunday in Port Harcourt by unknown gun men.
A sundry reflection on the security situation of our dear Rivers State indicates that the several efforts made by the previous administration which significantly brought criminality to its lowest ebb across the State have now been reversed in just 3 months of the administration of Governor Nyesom Wike. The present sorry state of security in the state did not come by accident.
Before and during the last electioneering campaigns, the APC warned that the worst thing that would happen to Rivers State was for Nyesom Wike to become governor of our dear state especially with regard to security of life and property. The warning was based on a clear assessment and observation of the individuals who call the shots in the Rivers State chapter of the PDP and those they chose to engage as their foot soldiers to snatch electoral victory through the use of the gun.
Today, the worst fears of the APC have come to stay in Rivers State considering the skyrocketing level of killings, armed robberies and kidnap sweeping through the length and breadth of the state with negative impact on the economy and social life of the people and residents of the state.
The APC would like to call on security agents in Rivers State and beyond to do all they can to ensure a quick and safe retrieval of the kidnapped journalist of international repute whose only crime was to visit the family in Port Harcourt, her home state capital.
It is the belief of the APC that Rivers people do not deserve the present state of insecurity that has been imposed on them by a band of individuals who deployed criminality to steal the peoples' mandate and now cannot find meaningful engagement for their foot soldiers who now resort to self help in armed robbery, kidnap and other crimes. The PDP and its governorship candidate sowed an ill wind of violence and we all are now made to face the accompanying whirlwind.
Dornu Kogbara must be freed NOW!
Chris Finebone
State Publicity Secretary
Monday, August 31, 2015
Attached Document(s)