Why Wizkid Is Better Than Davido- Victor (@inkrediblesmog) Terhemba.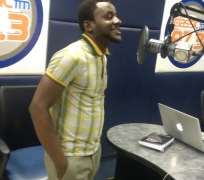 In 2011, my friend and artiste, Cashkeed, said, after listening to Davido's first single ''Back when'', that finally somebody has come out that will displace Wizkid from the top. I was skeptical that anybody would be able to that knowing fully how abundantly talented Wizkid is but deep down inside of me I hoped it would happen. Cashkeed has an uncanny knowledge of music that sometimes I don't doubt him, while I always foresee the future of Nigerian musicians and I rightly predict the outcome of any artiste I take interest in. Luckily, Cashkeed was opportune to meet Davido at an event and they chatted for a while even though Davido's bodyguards (B-Red, Shina Rambo, Asika, etc) tried to prevent him from talking to the ''superstar''. After the encounter, Cashkeed was full of praise for the young lad and his humility.
In contrast, I've met Wizkid several times and at different places before and after becoming a superstar and honestly, I was more than disappointed in this young man's demeanor. That was almost the same problem I had with Mo'chedah in her her days ( I remember I predicted she won't last beyond her first album in the music industry and so far she hasn't proved me wrong).
Personally, I don't think there is any basis of comparison between Wizkid and Davido because they are both different artistes safe they are young boys making it big in the industry. While Davido is a skilled singer, Wizkid's talented is naturally bequeathed to him by God. Davido's musical skill is borne out of his passion and many hours and years of practise. Wizkid is so talented he can suit well just on any beat and genre of music, something Davido cannot do.
I once told a very good friend, Victor Etim and later much to Terry Tha Rapman (now known as T.R), that I doubt very much if Wizkid would ever be able to replicate anything near the success he enjoyed with his first album "super star''. This is because, while Davido writes his songs or buy songs from others, Wizkid has transited from writing songs to mostly doing freestyles on songs. This, you will often hear him repeat the same lines in a song or same contents in most of his songs and sometimes confuses us about what the theme of the song really is yet fans still love his song (albeit with a short life span), this is something Davido cannot dare do, if he dares, that song will just be a disaster.
When Wizkid first came to limelight he gave the broke guys some sort of hope of getting laid. At least then we could compete with yahoo boys for girls. Wizkid came with swag which all the girls fell in love with and quickly awon boys emulated his swag. Wizkid's dressing and style was always on point. Whatever Wizkid wore and looks good, boys will quickly go and buy the same. Then girls would love boys who got swag, with swag boys could get laid. Ochuko learnt from wizkid and outsmarted him in sparkling glee. Ochuko could lack money but not girls.
This went on until one David Adeleke a.k.a O.B.O came to the scene and changed the permutations of everything. Because of this boy, girls realized that swag don't pay bills, he was all about money, Damn!!! That guy can brag about his money and backs it with unnecessary exhibition of his superfluous wealth. Then, we the broke guys started losing our girlfriends to yahoo boys who made easy cash. Even the loyal girlfriends who vowed to stick with you constantly reminded you of the importance of money and if you are not careful you would just wake up one day and find your girl in the comfort of a yahoo boy and nothing you can do about it than sulk and moan.
Nevertheless, that didn't deter people like me, instead we worked hard to make our money as I now have my own mansion, fleets of exotic cars and unparalleled luxury. It is free to dream right? Let no body wake me from this dream as I am working assiduously hard towards achieving it,
In summary, it is in my own professional opinion that Wizkid is a better artiste than Davido and if you have followed me so far you would agree with me. But Davido is the bigger artiste between the two. None of Wizkid's hits is as big as "Dami Duro'' or ''Skelewu''. Both acts have won all that is within their reach to win both locally and internationally. You don't have to argue about this, my decision is final!
Victor Terhemba Is a talent manager, political analyst and social commentator from Lagos.
Follow me on Twitter: @inkrediblesmog
Disclaimer:

"The views/contents expressed in this article are the sole responsibility of

Victor Terhemba

and do not necessarily reflect those of The Nigerian Voice. The Nigerian Voice will not be responsible or liable for any inaccurate or incorrect statements contained in this article."