The "Stoning" Of Rotimi Amaechi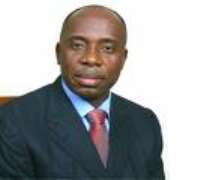 "You have stoned nobody; that is why we are stealing........."
- Rotimi Amaechi, former Governor of Rivers State in PUNCH December 15, 2013
"If you don't take your destiny in your hands, we will go and other leaders will come and continue stealing."
- Rotimi Amaechi, former Governor of Rivers State in PUNCH December 15, 2013
"The limits of tyrants are prescribed by the endurance of those whom they oppress."
- Frederick Douglas (1817 – 1895)
Governor Chibuike Rotimi Amaechi has created a reputation for himself as being against impunity and corruption. He has at one time encouraged Nigerians to stone those of them who parade themselves as leaders as evident in the quote above. He believed that the political leaders, himself inclusive, have been taking Nigerians for a ride. He believed and still probably believes that he and his fellow politicians have been stealing our commonwealth because we let them.
He felt that until we begin to stone them as thieves are supposed to be stoned, they would continue to steal, loot and cart away our commonwealth without let or hindrance. Essentially, he is echoing Frederick Douglas that their tyranny as thieves and professional kleptomaniacs would only end when Nigerians are fed up with them and begin to take reprisals against them.
Governor Rotimi Amaechi of Rivers State is a fighter. He is outspoken, bold and brash. He takes on all comers without concern for consequences. His loquacity is bewildering and beyond imagination. His fearlessness has become legendary and this has recommended him to many Nigerians who love to hate him or hate to love him. He has a large following as a result of this. Listening to him, you could get the vibe that he essentially wants good for his people but does not have the discipline to conquer his environment. As a result he is due for stoning as one of those who looted our commonwealth and mismanaged the rest they decided not to loot.
It is now a matter of psychoanalysis if his brashness and famed "fearlessness" is not a sign of some inner insecurity. An insecurity that stemmed from a nagging conscience because of the way and manner he has stolen the commonwealth of the Rivers State people. A sign of a mind troubled by the iniquities that he has engaged in secretly. His garrulity has been deemed to be a cry for help because he has betrayed himself and his people. He is a tell tale of a mind that is not at peace and is having trouble living with itself for atrocious acts of corruption.
Several times, during President Goodluck Jonathan's administration, Amaechi presented himself as the champion of the poor and the deprived. He created a false image of himself as the defenders of the people against the impunity of President Jonathan. The fact of the matter is that if the devil had come around to defend Nigerians from the impunity of GEJ, Nigerians would have accommodated him. That is what happened to Governor Amaechi, a vagabond at a point in time who is now a corrupted billionaire reportedly worth almost 14 billion.
It should be made clear that it s a legitimate expectation for every human being to work hard and elevate him/herself from the fangs of poverty to comfort. It is what is expected of every reasonable human being to work hard and accumulate resources in the most honest way possible. What is not acceptable is to pilfer the public purse and appropriate the commonwealth to your own exclusive use while pretending that you are a messiah and "champion of the poor."
It is amazing that a person like Amaechi whose video of packets of wads of dollars was mistakenly exposed from the suit of his pocket during an interview has gone viral on the internet could sit in judgment of another human being as being corrupt. In addition another video made by a "Common Man" is already making waves on the internet alleging 864 billion naira fraud against our "man Friday" Amaechi. Well, this is Nigeria, where the cow thieves are always sitting in judgment over the hen thieves. It is disturbing that these are the kinds of people in whom Nigerians have put their hopes of being redeemed. Definitely, it is a hope that would never be realized.
Governor Amaechi is a traitor to the people of the Rivers state. He sold dummies to them, betrayed their trust and confidence. While his people are not able to receive salaries for their sweat, he was flying around in a $18 million Jet and allegedly spending money on the Campaign of Mohammadu Buhari so that he could be considered for Vice Presidential slot or at worst, a Ministerial appointment. Hardworking men, women and vulnerable children were going hungry in Rivers State while Amaechi was gallivanting around Nigeria and the World in a private jet allegedly bought for the state.
If one may ask, is the purchase of a Jet the most important priority where all the children are not in school? Is a Jet a priority in a state where many children go to bed unfed? Is a Jet a priority in a state where there are no modern health facilities available? His rail project that was abandoned has been a source of ugliness and a reminder of a dream unfulfilled. Yet billions of naira had been appropriated for this project which as at present is of no use to the people of Port Harcourt in particular and the Rivers people in general.
Amaechi was pissed off by President Jonathan and he fought him to a standstill. I have no problems with that because Goodluck Jonathan was an embarrassment as a president. Amaechi also has been pissed off by Asiwaju Bola Tinubu and he is engaged in a cat and mouse battles against him. I have no problem with that either because he and Tinubu are birds of the same feather who robbed their people blind. Amaechi is very upset that for all the reasons that he has betrayed his people in Rivers' State, Asiwaju Tinubu has not allowed the realization of his ambition to become the Vice President of Nigeria under the Buhari Presidency. Amaechi was one of those who championed the rejection of Tinubu as the Vice President to Buhari. He was hoping that if Tinubu was played out he would have a better leverage. But unfortunately for him things did not turn out as he anticipated.
On one occasion at a meeting of the stakeholders of the APC, he had been very rude to Asiwaju Tinubu and insulted him virulently. His rudeness and aggression was so shocking that Buhari and other elders at the meeting were speechless. They could not control him or did not know how to control him. All politicians are ambitious. Nothing is wrong in that. But what is wrong is an ambition that lacks moderation and sense of appropriateness. Amaechis's ambition had led him to betray the Rivers people and caused him to offend some of his benefactors, even if those benefactors were less than perfect.
Some Nigerians hold the view that it was a good thing that Asiwaju Tinubu did not become the Vice President to Buhari because of varied allegations of corruption against him and the threats posed by a Muslim/Muslim ticket to the religious stability of Nigeria. But if allegations of corruption should disqualify Tinubu from being the Vice President, it should disqualify anyone in this dispensation from holding any position in Buhari's government including Rotimi Amaechi or any other governor that has looted his state. This is why the attitude of the Presidency to the emergence of Bukola Saraki, an alleged certified bank robber, as the Senate president is still flabbergasting. All a presidency determined to fight corruption needed to do was just to make a public statement about its abhorrence of such a situation.
Amaechi has sought to come to equity some of the times but with reeking hands of corruption. The question subsisting right now is whether Amaechi would become a Federal Minister under the Buhari Presidency without explaining how he came to be worth almost 14 billion? If Buhari rejected the purchase of Mercedes Benz cars for his use in Aso Rock, how could someone who used the funds of his state to purchase a Jet while he did not pay the salaries of his workers be qualified as a Minister in a government trying to fight corruption?
Some governors are richer than their states. They have povertized their people through stealing. They have looted the commonwealth of their people. Children in their states are dying. The sick in their states have no succor. Able bodied men in their states have no jobs because of mismanagement and looting. These set of governors could and should not be allowed to go scot free. It would amount to monumental injustice for Buhari not to step in and give justice to the people of Rivers State and other governors involved in these heinous crimes.
Rotimi Amaechi is the postal boy of this genre of governors. He is ripe for stoning as he suggested. It is the only way to stop others from repeating the follies of his ilk in stealing our commonwealth. Is he going to find succor in a Ministerial position under President Buhari? Or would he be made to account for his stewardship? The people of Rivers State are watching and waiting. Nigerians are watching and waiting.
"In the long history of the world, only a few generations have been granted the role of defending freedom in its hour of maximum danger. I do not shrink from this responsibility – I welcome it."
- John F. Kennedy, in his Inaugural Address January 20, 1961
Please, follow me on twitter @OyeyemiRemi
Disclaimer:

"The views/contents expressed in this article are the sole responsibility of

Remi Oyeyemi

and do not necessarily reflect those of The Nigerian Voice. The Nigerian Voice will not be responsible or liable for any inaccurate or incorrect statements contained in this article."
Articles by Remi Oyeyemi