I take pride in grooming stars – Gbolahan Odukoya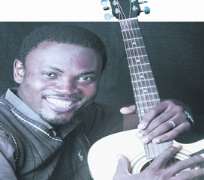 .His name may not ring a bell but his remarkable landmark in the musical scene is one that cannot be easily overlooked. With a life weaved round his acoustic guitar, he came into limelight some
eight years ago and has ever since impacted expertise on not less than 200 artistes whom he trained in the same line. Gbolahan Odukoya, an inspiring, yet versatile singer and song writer, spoke with BUKOLA BAKARE,on his passion for playing the guitar, the importance of learning musical instruments while commenting on pertinent issues in the music industry. Excerpts:
How did you learn how to play the guitar that has made you a household name today?
Actually, for me, music is innate but when it comes to playing a musical instrument, you have to learn the process; but the bottom line is that everyone must have a push that gives them the passion to learn the instrument. I learnt how to play the guitar at the age of 19 and it was actually with my elder sister's guitar. It was my next door neighbour who noticed that I had a flair for music so he gave me a photocopy that had not been bound. It was during a very long strike embarked upon by university lecturers and somehow, I fell in love with it. I finished that book and fell in love with it.
At what point did you decide to make a career out of it?
I think it was late 1999 or early 2000. I was getting ready to do an examination at the University of Lagos where I studied Economics and some friends of mine who were rappers from Obafemi Awolowo University came to school. They asked me to be their producer and we went to the studio. While we were there, I felt time just froze because between 2 a.m. and 4 a.m. in the morning, there I was sitting with my laptop and on the keyboard with my guitar beside me, enjoying myself without any consciousness of the time. And while I was there, all of a sudden, it just dawned on me that this was what I'd like to do.
Can you give an insight into your background?
Gbolahan Odukoya is a Yoruba man who spent most of his growing-up years in Ijebu Ode, Ogun State, but was born in Lagos. My Dad is a retired Chartered Accountant and also a priest in the Anglican Church. So, I am what you would call an Omo Alufaa. I have a close-knit family; Dad, Mum and five sisters. I am the fifth out of six children; five elder sisters and a younger sister. So, I am a real Okanlawon
Were you pampered in any way as a result of this?
Yes, I was, during my younger years, but by the time I turned 10, my dad felt I was becoming really soft so he told me to go far away and learn to be a man. I went to Command Secondary School, Jos. Nine months out of a year, I was far away from home. I learnt to talk and shake hands and walk like a guy (chuckles). Because I lived in a very sheltered environment, I didn't know that I was very effeminate. So, thank God for my secondary school where I learnt how to be a man.
Apart from playing the guitar, what else do you do?
I play the piano too, but my major passion is the guitar and I have been teaching that in the last eight years. I teach people how to play the guitar and I have taught over 200 people in the last eight years and some of them are artistes.
Can you mention some of them?
I'm sure you'll know Exetera, Philip Otuya ( who did a duet with Dare Art Alade). I coached him for a month and immediately he finished, he went for Star Quest, that was about three years ago and I was watching him on television doing exactly what I had taught him weeks before. I was so proud of him. Of course the most famous of all my clients has been Bukola Elemide known as Asa. She already had an idea of the guitar and trained at Peter King somewhere in Badagry but she needed to take it to a higher level, so I sat with her for some months.
There is this notion that musicians should just know how to sing, there is no need to have a fore knowledge of any musical instrument. What is your take on that?
Music is a whole, so you can't take one part out. It's like football, you can't be a goalkeeper and not learn how to kick the ball. Even though you want to be a singer, you need to know what key suits your voice. Besides that, there are also many dynamics in music; that it is always good to have a great knowledge of one instrument. But even if you don't, you should at least have a good knowledge of the whole. If there is one particular singer in all that amazed me over the years with her abilities, even though she can't play an instrument, it is Yinka Davies. I have actually worked with her for some months and even though she couldn't play an instrument, she knew exactly what she wanted to hear, so, if you hit a wrong note, she would say 'what you did was wrong, correct it'. The truth of the matter is, if you can play an instrument, it always helps.
What do you remember from your childhood that helped nurture your passion for what you do?
Yes, I think it was my time at the University of Lagos. I was part of a music team called Rock Solid and the pioneer members were TRF-The Rock Foundation Mission with a fellowship under House on the Rock in UNILAG. Some of the members actually became KUSH, so we all grew together. There was no doubt about it that we all influenced one another one way or the other. Take Lara George for example, she is a fantastic singer and everybody knows her now; TY Bello used to rap in those days but she doesn't do much of that now. She is in love with photography now. I must say that my time in Rock Solid helped in shaping the person that I am today.
What are the inherent problems you think we have in the music industry?
The music industry so far and to a certain degree, has always been like every man for himself and God for us all. The major problem the industry has is having a legal framework for the way we do things. The marketers live in a world of their own and we know that they are the pirates. There is no accountability, no system whereby you can track how many CDs are made and sold and as a result, there is copyright theft. For instance, one of my new singles, Lojojumo, took me a year to write. So, after spending so much time, sitting down, just trying to crack the perfect song, someone just dubs it and releases it and you are like "Do you know how much work and labour went to just producing that song?" It's theft and I suggest there should be a lot of protection; a legal framework whereby those that want to market legally can make their profits, those that are song writers will also make profits even if they are not singers and those that are singing and performing should be able to earn a good living from what they do because we are in the age of which intellectual property is key. Bill Gates is the richest man in the world because of intellectual property, not because he owns a building somewhere and because he lives in an environment where intellectual property is so well guarded; he eventually rose to become the richest man in the world. I think what Nigeria just needs is a strong legal framework for everything that is done and organisation because there is so much profits to be made. Ben Murray Bruce of Silverbird once said "Nigeria has 120 million people, 120 million people can never be wrong". Everybody should be willing to follow the rules.
What does it take to learn the guitar? Are there any special skills required?
Well, no special skills are required, all you need is to have the passion to learn and own a guitar as well.
Apart from your new single Lojojumo, do you have other tracks?
Prior to this one, there was Agbani lagba tan, Seni ma dupe which is the title track of the new album which will be coming out this year by God's grace.
What edge does an artiste who can play a musical instrument have over one who cannot?
The truth of the matter is when he is on stage performing, I can say yes, the one who can play a musical instrument has an edge. I have been in a situation where they were going to play my CD and I was ready to perform. For one reason or the other, something went wrong and the CD wouldn't play and there I was standing in front of 700 people. I picked up my guitar and plugged it to the sound system, picked up the microphone and performed the song live. People were like "We saw what was happening to this guy and yet it didn't shake him." They actually got to appreciate me more that I had the music in me and I was ready to deliver it even without the DJ playing any of the tracks.
Why is there this problem of artistes not performing with a live band in Nigeria? It seems many are so used to miming alongside the CD?
I think that is very unprofessional. To a certain degree, I wouldn't say it is the fault of the artistes themselves because they have to earn a living. I think it has to do with the events managers, who are always looking for shortcuts to make their money. They don't want to pay any set of musicians who will come with their band. For instance, if I come with a four man band; a keyboardist, bassist, drummer and an additional guitar, I will have to pay them something, so they opt for the easy way out and that is what is actually killing the industry; everybody wants to do things the easy way out and that's just wrong really. If you want to do things right, do it right and give people an experience they will never forget; something they will take home and that always comes from live music. Often times, when I perform, people tell me that although they enjoyed my music with the sound track, there is just an extra touch when I perform with my guitar.
What was the experience like working with Nikki Laoye on her song 'Never felt this way before'?
The interesting thing is that Cobhams is an old friend of mine, we actually met in Year 2000 and went to Aso Rock together to play for former President Olusegun Obasanjo. I went to visit him one day and we were catching up on each others' lives and then he played a song and said 'Uncle Gboly, I would like you to hear a particular girl out as this is someone you should work with'. The song was nice. Three weeks later, I went to visit another friend, and met Nikki Laoye there. That was how we started working together and it has just been fun. She sings my kind of music, so it comes naturally.
What is the way forward for up-coming artistes?
Doggedness. They must be dogged, be willing to persevere and work on themselves. Nobody becomes a wonderful singer just by working on your voice for two weeks. You must spend years actually working on your gift, no one becomes an overnight success.
Where do you draw your inspiration from?
Well... this might sound like a cliché but, yes, God inspires me a lot and I also get a lot of inspiration from my environment; but God is my primary inspiration. Of course, I write love songs too. There is a song I wrote some years back 'Everyday with you is valentine' and it received quite some radio play.
What is your philosophy of life?
(Pauses) That is a tough one, I didn't see that coming. I'd say my philosophy is 'Love God, discover who you are and stay true to what you were called to do'.
Comment on the hydra-headed monster called piracy?
The truth of the matter is that I must hand it to them; the pirates have something, a distribution network. If a set of people who are willing to do business can also generate a distribution network and do it the right way, with the backing of Nigerian Copyright Commission which will continually fight the pirates and thereby, promote those who want to do legal business and give them full backing whereby everybody can profit, business will thrive. The NCC is really doing a good job with the Adebambo Adewopo-led administration, they are actually doing what Dora Akunyuli did with NAFDAC. If we are willing to do things the right way, things will work.
With the demands of your job, how do you juggle that with being a married man?
For now, its fun. While my wife and I were courting, she told me that she would like to have a husband who comes home by 7 p.m. and I told her that would have to be another guy, not me (chuckles) because I am a musician and a guitar teacher. I told her there are times when I might come home early and on days when I have to go and perform at a club, concert, I might not come back home until 12 midnight, so, she would have to understand. That is how my job is.
Where do you see yourself in the nearest future?
I see myself rising to become a major influence in the Nigerian music industry content-wise because I know that I am a gifted song writer, a very good singer and particularly, a good musician. I see myself rising to a point where people will actually start writing quality songs and learn to play instruments because they are inspired by what I do and I also want to build a music school, probably less than five years from now.
Why do you think we have too many wishy-washy lyrics these days?
I guess its because of what American singer, Eminem, once said 'The real slim shadies have not yet stood up'. If you really know you have what it takes, stand up for it. When Asa got up, people had to listen to her because she had done her homework. If you do, those that lack substance will eventually go and sit down. Lara George, TY Bello, Kefee, Banky W, MI, Sound Sultan must be commended in this wise.
How would you describe your brand of music?
I'd say contemporary Christian music with a soft rock flavour. I'm a rock person and R and B too with a good African flavour because you have to put an African message into everything we do. We can't all sound like R Kelly.
What are your likes and dislikes?
I like straight forward people; the world is always a better place with those kind of people. I also like people who have taken time to discover who they really are and not following the crowd. It takes courage to do that.
I dislike people who just follow the crowd.
Story by Alayande Dayo