Don't Buy My Live Recordings – Ksa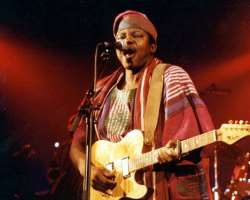 The king of World Beats Otunba Sunday Ishola Adeniyi Adegeye a.k.a. King Sunny Ade has urged his fans both at home and abroad to ignore any of his recorded live shows as it is not authorized by him.
Speaking recently at a meeting, KSA said that there was no time he authorised any person or group of persons to either record or put on sale any of his live shows.
He noted that most of the recordings were either done without his permission during shows or stolen from celebrants who demanded for such for personal use.
He also disclosed that a group that claims to be record advertisers approached him to do a two-hour recording meant to be sold, but, according to him, "when I asked for the emolument on such transaction, I was told that it was meant to promote me and my albums, but I stuck to my guns. Not satisfied, they threatened me. That was in the 70s, but in spite of that, I am still here today."
Sunny Ade added that there was no time he signed an agreement with a person or group of persons to play or sell his live recordings.
While advising his counterparts in any genre of music not to succumb to any form of blackmail, KSA said "we will get there through hard work and prayers."
The juju music king, who is likely to perform at the opening ceremony of the World Cup scheduled for South Africa later this year, recently concluded work on a theme song with artistes drawn from other parts of the continent.
Entitled Citizens of the world and composed by a group called Playing Machine, the project features artiste from China, France, America, India and other parts of the world.
"It was a nice experience because the video shooting of the project was done in Hollywood, but that notwithstanding, I did my own song in Yoruba so also were other artistes in their own dialects and if things work according to plan, we may perform at the mundial," he disclosed.
Speaking on how he was contacted for the job, he said that it was through his international manager and based on Steve Wonder's advice to the Basam-led organisers.
Story by Alayande Dayo