US PRESIDENT BARACK OBAMA DEMANDS MINE BLAST ACTION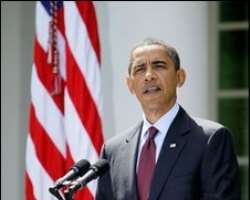 US President Barack Obama has called for an investigation into a mining disaster in West Virginia that killed 29 people.
Mr Obama said the cause of the blast at the Upper Big Branch mine should be determined, to prevent similar accidents from occurring.
The bodies of four missing workers were found on Saturday, ending hopes that any missing miners had survived.
The disaster was the deadliest US coal mining accident in 40 years.
The cause of the blast has not yet been confirmed but officials believe it could be related to high levels of methane in the mine.
Mr Obama called for federal mine safety investigators to look into the cause of the accident.
"We cannot bring back the men we lost," he said in a statement.
"What we can do, in their memory, is thoroughly investigate this tragedy and demand accountability."
Rescue workers are recovering the last bodies from the mine and funerals of the victims have begun to take place.
It is the worst coal mine disaster in the US since 38 people were killed in a Kentucky mine in 1970.