Pray For Ebere Wabara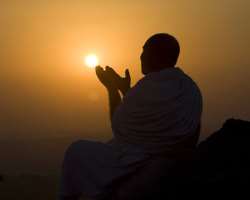 It was Søren Kierkegaard who noted that the function of prayer is not to influence God, but rather to change the nature of the one who prays.
This is why I'm calling on the world to pray for one Ebere Wabara who has replaced journalism with casting vituperation and venoms on people, yet he shouts above his voice when is called to order.
His habit for insult was again exhibited in his article of June 29, 2015, published in Daily Sun, with the title, "Pray for T.A. Orji." In that article, Wabara said that he was refraining from writing his usual garbage against the ex-Governor of Abia State, Senator Theodore Ahamefule Orji, now representing Abia Central senatorial district at the red chambers of the National Assembly.
Against that backdrop, those that have been following the drivels of Wabara against T.A. Orji would note that on June 22, 2015, he wrote an article against the persona and vowed to serialize it.
Many of my friends and colleagues who read that article expressed their concern if it was only about T.A. Orji that Wabara knew how to write about. So, his sudden show that he was refraining from writing about the T.A. Orji is rather bunkum.
Wabara's harangue that the world should pray for T.A. Orji and that he has forgiven him is as well claptrap. Wabara said that he has forgiven Senator T.A. Orji. But I want to emphatically state that T.A. Orji does not need Wabara's forgiveness, because he (Orji) never offended him.
Wabara has been talking about his case with the Nigerian Police, of which in his article of April 24, 2014 with the title, "My ordeal: Blame the Nigeria Police Force", he exonerated the then Governor Orji, his family members and government, but blamed the Nigerian Police for his ordeal.
So, what was Wabara talking again today? It was mental-illness reading from Wabara in the recent times that his ordeal with police was the handiwork of T.A.Orji. I think Wabara needs a psychiatrist!
How can Wabara who claims to be an 'elder' to everybody that comes across him be speaking from sides of his mouth! We shall come to that later. Wabara in order to hoodwink his hoodwinked-reader, started his June 29, 2015 article with, "Do not be astonished."Bla-bla-bla."
The editors of his column in Daily Sun could possibly have warned him to desist from his occupation of junk journalism against T.A. Orji and here was Wabara telling those who cared to listen that he has forgiven T.A. Orji. Forgive T.A. Orji for what offense?
I want to make it clear that if there was anybody that should forgive Wabara that person was supposed to be T.A. Orji. But T.A. Orji did not care about the lack-of-common-sense of Wabara on pages of newspapers against him.
I have noticed that Wabara has a way of dragging people into his problems to shy away from hiding his face in shame. His boast in his June 29 article of how his column admirers called him and pleaded that he forgives T.A. Orji is not the best way to shy away from a war one knows that he has shunted.
I would not like to join words with Wabara on certain issues, but would repeat the umpteenth time that T.A. Orji does not need Wabara's forgiveness, because he never wronged Wabara. It's Wabara that should be praying for forgiveness from his God, knowing how he misrepresented the media demonising T.A. Orji for the simple reason that he wanted 'Stomach Infrastructure' from his paymaster.
.Ajunwa writes from Abuja
Disclaimer:

"The views/contents expressed in this article are the sole responsibility of the author(s) and do not necessarily reflect those of The Nigerian Voice. The Nigerian Voice will not be responsible or liable for any inaccurate or incorrect statements contained in this article."