Wike to demote pro-Amaechi traditional rulers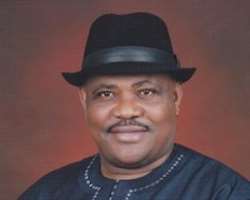 Governor Nyesom Wike of Rivers State has vowed to upturn the status of some traditional rulers in state who are believed to have been favoured by the former Governor Rotimi Amaechi for political expediency while he will restore the status of those allegedly victimized unjustly by the ex-governor.
In furtherance of his desire to correct what what he regards as 'unfortunate politicisation of the traditional institution' by the former governor, he said: 'I have sent an Executive Bill to the Rivers House of Assembly to repeal some sections of the Rivers State Traditional Rulers Council law, which the former Governor hurriedly passed in one of the rooms in Government House'.
Wike said in the implementation of the obnoxious law, some traditional stools were hurriedly upgraded from third to first class and some had their status withdrawn from them.
He said some traditional rulers were also arbitrarily promoted above their peers and when the new Assembly passes the his Executive Bill into law, his administration would correct the injustices and arbitrariness.
The governor who appeared on popular news and current affairs interactive programme of Silverbird FM radio in Port Harcourt decried a situation where some hitherto revered traditional rulers dabbled into politics.
He specifically cited example where the Chairman of the state traditional council allegedly sent text messages to some traditional rulers not to attend ceremonies when the former president (Goodluck Jonathan) came to the state to address the people of the state.
'How can you do that? How can you tell traditional rulers not to listen their President who wants to address them? As a traditional ruler you don't dabble into politics. When Mr A from PDP visits your palace you bless him and when another from APC visits you bless him too and all you tell them is to ensure there is peace in the state. But if you do anything contrary to that there is dire consequences,' Wike cautioned
Wike also alleged that a particular traditional ruler from Isiokpo, headquarters of Ikwerre local government area of the state went to the extent of taking a full page advertorial condemning his governorship ambition during the campaign period.
The governor stated that the traditional ruler stated in the sponsored advertorial that Ikwerre people are not greedy for an Ikwerre (Wike) to succeed Amaechi also an Ikwerre.
The state governor further alleged that the former governor dethroned a traditional ruler for daring to welcome him and his campaign team in his palace during campaign period, while someone who was no longer a chief in his (Wike's) community, Rumuepricom, Obio-Akpor local Government was made a traditional ruler.
However, Chidi Lloyd, the former Leader of the 7th Rivers House of Assembly disagreed with Wike on the Rivers State Council of Traditional Rulers law.
He said that he was sure Wike had not read through the law the former lawmakers passed before condemning it. He said the new law passed was made to reflect the current realities aimed at 'strengthening and empowering the traditional institution but not to make them partisan,' Lloyd posited.