2015 elections: Buhari advises aggrieved parties to seek redress in court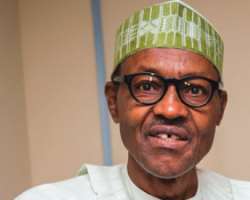 President Muhammadu Buhari has advised those still aggrieved with the outcome of the 2015 elections to seek redress in court.‎
Buhari gave the advise  when he paid homage to the Emir of Daura, Alhaji Umar Faruk Umar, after attending the Juma'at prayer at the Low Cost Mosque in Daura, Katsina State.
‎"If Nigerians continuously follows the tenets of democracy the country will always be at peace since democracy on its own with its institutions has the mechanism for resolving conflicts peacefully," he said.
President Buhari, who spoke in Hausa, urged those who were aggrieved after the 2015 elections to seek redress through democratic means and institutions.
He noted that Nigeria was adopting democracy from the western nations and learning fast by avoiding mistakes made when studying the weaknesses and strengths of those nations.
Buhari urged that elections at all levels must be conducted based on democratic principles.
He also advised those interested in elective positions to look for a political platform of their choice, declare their interests and the party would support them.
The President said that in 2002 when he joined politics, many people did not give him a chance because they knew his antecedents as a military officer.
He added that the 2015 polls had clearly shown that it is God that choses who becomes a leader.
"It is not by power, it is not by wealth but by the Grace of God that I won the election."
Buhari said that he decided to contest elections because of his commitment to serve the people and not to be served or to amass wealth.
He added that he had served the nation in different capacities in the past and had not had so much money in the banks either locally or abroad or anywhere in the world.
He said all he had over time "is integrity and commitment to serve the people" and said that he would fulfill his promises to the people.
Earlier, the Emir of Daura, Alhaji Umar Faruk Umar, said he had known Buhari for his consistency which had become the hallmark of his integrity.
He said he was happy that Buhari was eventually elected as the President of the country after some trials.
The Emir observed that the President was not new in government and wherever he had served he always distinguished himself with integrity and in all he had returned home penniless.
The Emir urged Nigerians to be patient with the administration so that they could allow Buhari to deliver on his promises.
He also urged Nigerians to support the administration with prayers in its new responsibility.
President Buhari had celebrated the Juma'at prayer with his kinsmen at the Low cost Mosque in Daura where the Chief Imam, Alhaji Musa Mansir, had prayed for peace and development in the country.
The cleric also urged Nigerians to pray for their leaders at all times.
He also spoke on the benefit of Ramadan and urged all to extend the hands of fellowship to others as well as give support to the less privileged persons in the society.