NAFDAC Warns Against Consumption of Ogogoro.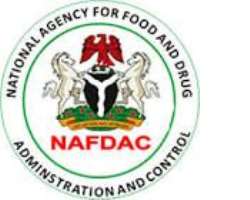 The National Agency for Food and Drug Administration and Control (NAFDAC) has warned the general Public to desist from the consumption of unregistered Bitters and Locally produced Spirits, Popularly known as Ogogoro.
The Director - General, NAFDAC, Dr. Paul Orhii, who gave the warning Monday while briefing newsmen in Abuja disclosed that 56 people have died from consuming the illicit gin.
According to Orhii, so far, "38 deaths has been recorded in Rivers State, and Eighteen deaths in Ode-Irele, Ondo State,all associated with the consumption of locally brewed Gin."
"The first tragic incident this year occurred in Ondo state and just as we where making efforts to forestall similar incidence,another tragedy struck in Rivers State, he noted.
He further disclosed that the results of the laboratory investigation revealed Methanol Toxicity in these Local Gins that led to death in untreated patients.
NAFDAC had waged a relentless battle against rampant cases of reckless consumption of ogogoro especially in some Northern Part of the country between 2004-2007.
According to him, "The management paid advocacy visit to State Governors and Traditional Rulers in addition to various sensitization campaign organised to educate people on the dangers of ogogoro and various forms of drug abuse.
He said that the efforts where intensified when in 2009-2010 when there were noticeable signs that the problem had not abate.
The NAFDAC boss further explained the symptoms suffered by the victims which includes vomiting,abdominal pain, blurred vision, headache, dizziness and loss of consciousness.
For his part, National Co-ordinator, National Centre for Disease Control (NCDC), Prof. Suleiman Nasidi, warned that report on cases should not be delayed, because the effects of the Gin can be reversed if the cases are reported early.