Barcelona win fifth Champions League title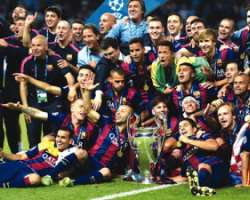 Barcelona claimed their third Champions League in six years as the brilliance of their attacking trident proved too much for the brave challenge of Juventus in Berlin's Olympic Stadium on Saturday, British Broadcasting Corporation reports.
It was Barca's fifth Champions League win overall.
In a thrilling spectacle, and with both Barcelona and Juventus attempting to claim a treble after winning domestic league and cup competitions, it was Luis Enrique's side that eventually came out on top.
Barcelona started as if they would romp to a comfortable victory when Ivan Rakitic capped the sort of passing move that has become their symbol to put them ahead inside five minutes.
Juventus, always a danger after ending notions of an 'El Clasico' final by beating Real Madrid in the last four, showed fierce resilience and with veteran keeper Gianluigi Buffon defiant, held on for Alvaro Morata to scramble an equaliser before the hour.
Redemption time arrived for Suarez, the player who ended last summer's World Cup in disgrace after biting Italy's Juventus defender Giorgio Chiellini, in the 68th minute when he showed a predator's touch to pounce after Buffon failed to hold Lionel Messi's shot.
Juventus could not mount another recovery and Brazil superstar Neymar wrapped up the win in what he described as the biggest match of his life with the final kick of the game.
For all Barcelona's brilliance, built around Neymar, Messi and Suarez, Juventus ran them every inch of a compelling encounter and were left with a hard luck story to tell as they were convinced they should have had a penalty when Paul Pogba tangled with Dani Alves seconds before Suarez scored.
In the end, however, Barcelona simply had that extra touch of fantasy that places them above the rest of Europe and Enrique's side can put their names alongside those who brought the giant trophy back to Catalonia as they claimed their fifth triumph in the tournament.
As well as Suarez's happier storyline, there were other sub-plots too as Neymar made up for his own World Cup heartbreak last summer, when he was injured before their 7-1 loss to Germany in the semi-final.
And for 35-year-old Barcelona legend Xavi, he was able to say farewell after a glittering career with another Champions League win before a move to Al Sadd in Qatar. It was the perfect ending as Andres Iniesta handed him the armband.
This was a wonderful antidote to the sour taste left after a week of corruption allegations levelled at Fifa, the world game's governing body. Agency report