Nigerian Bomber, Umar Farouk Abdul Mutallab Gets Charges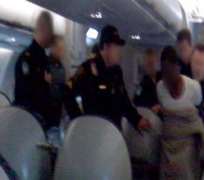 US VISITORS VISA ISSUED IN LONDON IN 2008
San Francisco (THEWILL) - Umar Farouk Mutallab, the Nigerian who attempted to bomb a Detroit-bound plane has been charged with attempting to destroy an aircraft and placing a destructive device on an aircraft, according to a statement from the US Department of Justice.
The suspect who is still being treated under tight security for third-degree burns at the University of Michigan Medical Center in Ann Arbor will enter a plea at the hospital to the charges later on Saturday evening.
The FBI said the explosive device used was made from Pentaerythritol Tetranitrate (PETN), also known as corpent, pentrite, or rarely and primarily in German as nitropenta or pentrit. It is one of the most powerful high explosives known and usually very effective. It is mostly used as an explosive and never used alone.
THEWILL checks reveal that the US embassy in London issued Umar a mulitiple entry visa to the United States in June 2008. His father, Dr. Umaru Mutallab had some weeks ago complained to the United States Embassy in Nigeria about his son's suspicious activities. No one knows why his visa was not revoked after the information.
Umar was last seen in the United Kingdom sometime in the summer of 2008. He is reported to have spent more time in Egypt and Dubai, where he was said to be studying for a postgraduate degree, which he abandoned midway when he suddenly moved to Yemen.
In the London, a spokesman for University College London confirmed they had a student named Umar Farouk Abdul Mutallab enrolled in their Department of Mechanical Engineering from September 2005 to June 2008.
His last address in London is a West End basement apartment address listed as #2 Mansfield Street apt 16 London, W1G9NE, which the London Anti-Terror Squad has searched. It is a $3 million-dollar family owned apartment.
His father is currently in Abuja, Nigeria helping Nigerian security services with investigations.
We will keep you updated.