OKONJO-IWEALA PICKS HOLES IN 2010 BUDGET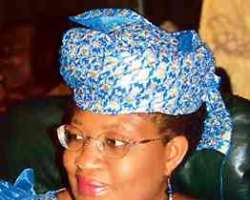 The Managing Director of the World Bank, Dr. Ngozi Okonjo-Iweala, has faulted two of the key assumptions in the 2010 budget.
Okonjo-Iweala, who spoke as a guest lecturer at the University of Calabar, Cross River State on Thursday, also expressed concerns about the nation's rising debt profile.
She, therefore, advised the reconstituted cabinet, especially the Minister for Finance, Dr. Olusegun Aganga, to work in harmony with the Central Bank of Nigeria to address the emerging knotty issues bedeviling the Nigerian economy.
The World Bank chief said, 'I am concerned about the realism of the 2010 budget assumptions of a reference oil price of $67 per barrel and production of 2.35 million barrels per day. If oil revenue assumptions are not met, more drawdowns from the Excess Crude Account would be required on the back of the already substantial depletion in 2009.'
She listed recent trends in the economy that must be given urgent attention as the country's current rising debt profile; cracks in the banking system; and over-reliance on oil revenue in the 2010 budget.
The Senate and the House of Representatives recently passed a harmonised budget of N4.608tn, 13.3 per cent higher than the initial N4.07tn estimate sent by President Umaru Yar'Adua in November 2009.
While recurrent expenditure in the harmonised budget was N2.077tn, capital expenditure was increased to N1.8tn, about N253bn higher than the Executive proposal.
The budget was predicated on $67 per barrel of crude oil, up from the initial projection of $57 per barrel by the Executive; oil production projection was put at 2.35m barrels per day; and budget deficit was estimated at N1.5tn.
The government also projects an inflation rate of 11.2 per cent on a Gross Domestic Product growth rate of 5.47 per cent.
She was a Minister of Finance under former President Olusegun Obasanjo's administration.
Okonjo-Iweala, who said the economic trends, though not alarming, were not the best stressed that the cabinet should be vigilant in order to ensure that the gains of the earlier part of this decade from 2003 to 2007 were preserved.
She affirmed that Nigeria must meet two criteria in order to be one of the 20 largest economies in the world, able to consolidate its leadership role in Africa and establish itself as a significant player in the global economic and political arena.
These she said must include the country's ability to manage her oil resources well and find ways of diversifying her economy away from oil as well as creating jobs for her burgeoning youths.
On the country's indebtedness, she recalled that government was able to pay off the last installment due on its debt settlement agreement with the Paris Club in April 2006 thereby erasing $30bn in external debt and reducing government external debt to $3.5bn.
But she regretted that by the end of 2009, fresh external debt for the country had risen to about $5bn which she said was discouraging considering the pace of GDP growth.
While the Federal Government was accumulating fresh debts, she said the debt profile of various states was also rising through issuance of bonds, adding that four different states issued bonds for a total of N90bn during 2008 and 2009.
'This is less than a billion dollars, but is only a partial picture and a complete picture needs to be put together as a top priority. Some states are floating bonds and can sustain the debt service comfortably via the oil transfers received from the Federal Government. But some are getting into trouble and running into liquidity problems. As you know, provisions of both the Fiscal Responsibility and DMO bills prevent states from borrowing externally; but their domestic borrowing needs monitoring,' she said.
She also commented on the domestic debt of the Federal Government and charged the new Minister of Finance to keep it in check.
According to her by the end of 2009 the Federal Government's external debt had virtually doubled in naira terms to N3.23tn adding that people might be tempted to claim that internal debts 'does not matter, because we owe it to ourselves.
'This is not fully true, because some of this debt in the form of treasury instruments could be held by non-resident portfolio investors. For example, a 2008 IMF report on private capital flows to sub-Saharan Africa estimates that about 20 per cent of Nigerian government domestic debt is held by foreigners.'
She also argued that higher fiscal deficits financed by selling domestic bonds could crowd out private investment and that 'what the government does with the money is of utmost importance for a developing country like ours.'
'The Excess Crude Account has suffered a big depletion. At the end of 2008, the ECA amounted to $20.1bn according to data from the CBN. By the end of 2009, this had diminished to $7.8bn. So the ECA fell by $12.3bn during 2009,' she added.
On the banking crisis, Okonjo-Iweala observed that while the emergence of distressed banks accounting for some 30 per cent of banking system assets was regrettable, the manner in which the situation was addressed represented a huge signaling opportunity.
She said, 'The transparency and evenhandedness with which these banks are 'intervened' and resolved will have a major impact on Nigeria's reputation as a potential regional financial center. This reputation took a bit of a beating as a result of the way the interbank foreign exchange market was treated early last year'
To remedy the situation she called for stronger supervision adding that for good monitoring of banks to work, Nigeria would need to overhaul and modernise its infrastructure for accounting, financial reporting, collateral registration and credit rating.
She also affirmed that any bank bailout would automatically raise the specter of moral hazard adding that Nigeria must take steps to avoid situations where good fiscal policy resulting in growing ECA assets was undone by bad loans on the balance sheets of banks, as already seen to some extent.