Wande Coal Leaves Abakaliki Crowd Wanting More At 2015 #StarMusicTrek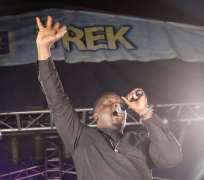 Pop star Wande Coal gave the huge audience at Abakaliki Township Stadium, a foot stomping end to a thrilling night of entertainment on Saturday May 9, 2015, as the 2015 Star Music Trek brought some of Nigeria's biggest music stars to the salt city.
After performances from Cynthia Morgan, Burna Boy, MI Abaga and Tony one week backed up by DJ Neptune and DJ Snoop Damaja on the wheels of steel, the silk-voiced singer kept the crowd warm with energetic performances of his songs from his debut album 'M2M' such as 'Bumper To Bumper', 'Taboo', 'Pere', 'You Bad', as well as his newer material like 'The Kick', 'Baby Hello' and 'Wake Up'. His performance left the crowd screaming for more as a long night of top-notch music drew to a close.
Speaking after his performance, Wande Coal remarked, "I feel blessed performing for this massive crowd. Big thank you to everyone that keep supporting our music and to STAR for bringing us closer to our fans in different cities"
The 2015 Star Music Trek continues with the Awka leg of the tour on Saturday May 16 tagged "Awka Rocks!"