Jonathan's last Council of State meeting holds tomorrow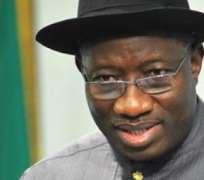 President Goodluck Jonathan has convened what might be the last meeting of the Council of State that he will convene under his leadership.
The Council meeting which holds on Tuesday(tomorrow) consists of the President (as the Chairman), Vice President, all former Presidents or former Heads of State, all former Chief Justices of Nigeria, President of the Senate, Speaker of the House of Representatives, all state governors and the Attorney-General of the Federation.
Although the agenda for the meeting slated for 11am inside the Council Chambers of the Presidential Villa, Abuja is not clear at press time, it will definitely be the last one Jonathan will be chairing after which he would be attending subsequent ones as a former President.
The President may use the opportunity of the meeting to thank council members for their supports since the inception of his administration and ask them to extend the same hand of fellowship to the President-elect, Muhammadu Buhari.
It is not clear if the president-elect, Mohammed Buhari, which by virtue of being a former Head of State is an existing member of the council, will attend.
He will automatically assume its leadership after his inauguration on May 29.
The Tuesday meeting may also review the conduct of the last general elections across the country.