Kashamu cries out, says Obasanjo plotting his extradition to settle scores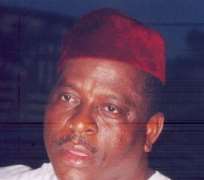 A Peoples Democratic Party Chief in Ogun State and Ogun East Senator-elect, Buruji Kashamu, has accused former President Olusegun Obasanjo of working with local and foreign security agencies to extradite him to the United States of America through illegal means.
Buruji said Obasanjo was involved in the alleged plot to extradite him to the United States over drug related indictment in the foreign land because of the defeat the former President had suffered in the PDP.
The senator-elect, through his lawyer, Mr. Ajibola Oluyede, said this in a petition to the National Human Rights Commission, seeking investigation into an alleged plan to abduct him and forcibly extradite him to the US.
The petition, dated April 15, 2015 and addressed to the Executive Secretary of the NHRC, Prof. Bem Angwe, is entitled, 'Prince Buruji Kashamu: Abduction plans by United States of America agents in collaboration with law enforcement agencies in Nigeria'.
'The current plan to abduct him (Kashamu) is an admission by the US authorities that there is no case against him and is a design instigated and commissioned by Obasanjo who seeks revenge against him for the comprehensive political defeat Obasanjo suffered because of Kashamu in the PDP,' Oluyede wrote.
Oluyede urged the NHRC to urgently intervene 'in accordance with the jurisdiction expressly given to your commission by the National Human Rights Act 1995 as amended to carry out an inquiry into the matter in order to establish the culpability and compromise of certain institutions in this despicable plan and to protect our client's fundamental human right to liberty, life and dignity of hisperson.'
Kashamu explained that despite previous court decisions both in Nigeria and the United Kingdom exonerating him of alleged offences, 'desperate politicians' were still mounting pressure on the Attorney General of the Federation to resuscitate the US indictment against him in Nigeria to extradite him to the US.
Oluyede however, said the pressure on the AGF ‎did not work because as the US authorities had never made a request for Kashamu to be extradited to the US as required by the Extradition Treaty the US and Nigeria as well as the Nigerian Extradition law.
The petition reads, 'Kashamu's enquiry revealed‎ that indeed there had been moves by US officials within the region to secure the assistance of the head of the INTERPOL division in Nigeria, Mr. Solomon Arase, a Deputy Inspector General of Police, for the arrest and delivery to the US officials of Kashamu for transportation to the US without following the due process required by the Nigeria Extradition Act.
'Mr. Kashamu's informant revealed that Arase has confirmed that one Donna Chabot approached him in January 2015. The said Ms Chabot is an Attache Department of Homeland Security, Immigration and Customs Enforcement at the American Embassy route Des Almedies BP 49 Dakar Senegal and requested that INTERPOL Nigeria assist in the abduction of Kashamu for the purpose of his forcible transportation to the US to face trial before Judge Norgel.' Punch