Nigeria: Gunmen kill former ambassador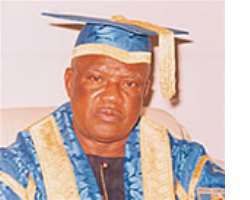 Ambassador Hakaire Ignatius Ajuru

The spate of killings of highly placed Rivers State indigenes in controversial circumstances heightened weekend with the shooting to death of a former Nigerian Ambassador to Ukraine, Ambassador Hakaire Ignatius Ajuru.
He was said to have been trailed by suspected armed robbers around Obehie, Abia State while returning to Port Harcourt from an undisclosed mission, prompting Governor Chibuike Rotimi Amaechi to charge security men in Abia State to fish out the killers.
Details of the killing could not be ascertained except that the Police Public Relations Officer in Rivers State confirmed that the former Ambassador was killed along the highway in Abia State. Ajuru was also said to have been killed along with his driver. However, suspicion is heightening that it may have been carried out by armed robbers since most of their personal effects were also stolen in the attack.
Amaechi, who had to cancel state functions on getting wind of the incident lamented the porous security along the boundary with Abia State and suggested that a joint patrol between the police in the State and their Abia State counterparts should be carried out to stem the incessant loss of lives to bandits along the road linking them.