HAYE AIMS FOR FOUR-FIGHT SWANSONG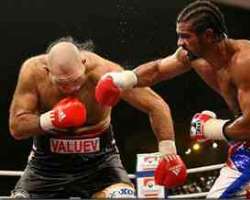 Haye (right) beats Valuev to win the heavyweight title
Britain's WBA heavyweight champion David Haye hopes to fight four more times before retiring in 2011.
But Haye, who stopped American John Ruiz in nine rounds in Manchester on Saturday, admitted he might only have time for three.
'I want to retire before I'm 31,' 29-year-old Haye told BBC Sport.
'Four fights would be ambitious and I'd need to get cracking so the sooner we can get these fights (with Vitali and Wladimir Klitschko) sorted the better.'
Haye hopes to fight either of the Klitschko brothers next as he bids to unify the heavyweight division, with Vitali holding the WBC belt and his brother Wladimir, the WBO, IBF and IBO titles.
And after selling out Manchester's MEN Arena for his first title defence, Haye says he would 'love' to fight either of the Ukrainians at London's Wembley Stadium in front of 80,000 people.
That fight could reportedly be worth £10m to each fighter, although the Londoner says his legacy is the only incentive he has in boxing.
'Money doesn't really enter my head in terms of boxing,' Haye told BBC Sport.
'All I focus on is being the best boxer I can be. Money is not the reason I want to fight the Klitschko brothers, I want to prove I am the best. By beating them money will follow but for me it's all about the legacy and the glory.'
Haye, who has only lost once in 25 fights, added that he hoped to be known as the best British boxer of his generation and as 'the man that fought the best possible guys in a short space of time and who always gave value for money.'
Victory over both of the Klitschko brothers would elevate Haye's name alongside the greats of British boxing history but he believes he will never surpass the achievements of former undisputed heavyweight champion Lennox Lewis.
'I think Lennox Lewis, for what he did in boxing in dominating the division for so many years, should be known as the best,' admitted Haye.