OUR WORLD CUP PLANS FOR EAGLES – SUPPORTERS' CLUB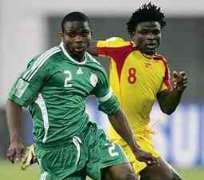 Nigeria's Joseph Yobo (left) and Benin's Razak Omotoyosi during their Ghana 2008 African Nations Cup match. Nigeria won 2 – 0
The Nigeria Football Supporters Club has said it will help the Super Eagles achieve glory at the FIFA 2010 World Cup in South Africa by travelling to the World Cup venue with more members than before.
According to the NFSC President-General, Rafiu Ladipo, the club has realised that the Eagles need inspiration to perform at the World Cup and therefore plans to hit South Africa with more members than it did in the earlier editions in the USA'94, France'98 and Korea/Japan 2002.
He said, 'In Angola it was hard for all the supporters club members that were there to follow the Nigerian team to all the match venues because things are expensive there. This is not saying that we did not do our best to motivate the players.
'Apart from the regular members, we are giving fresh members who have the money to be in South Africa the opportunity to travel with us so that the Eagles can really feel the support of Nigerians behind them.
'We don't have the team that boasts of the quality that we had in 1994, therefore, the national team of today needs extra inspiration and that is what we want to offer.'
Ladipo also said the fans will not adopt the use of the vuvuzela in South Africa.
'It is alien to our style and we will not go there with one or buy any in South Africa. We have a traditional way of supporting our team and FIFA has praised our style. Many teams have cried against the use of the instrument in football because of the deafening noise and we are not going to encourage it in Nigerian football.'