UNCERTAINTY AS ALISON-MADUEKE BECOMES FIRST FEMALE PETROLEUM MINISTER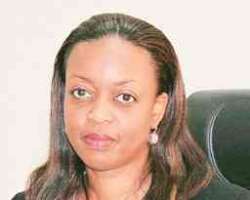 The appointment of Mrs. Deziani Alison-Madueke as the Minister of Petroleum may seem to have been influenced by the fact that she hails from Bayelsa State with Acting President Goodluck Jonathan and her candidate in the cabinet.
But a reading of her bio-data would reveal that the 50-year-old wife of a one-time Chief of Naval Staff and former military governor of Imo and Anambra states, Admiral Allison-Madueke (rtd) is actually deserving of her appointment.
If not by her not too impressive performance as Minister of Transport and later as Minister of Mines and Steel Development for three years and an indictment by the Senate for an alleged transfer of N1.2bn into the private account of a toll firm without due process and in breach of concession agreement; the fact that she was in April 2006 appointed the first female Executive Director in Nigeria by Shell Petroleum Development Company was worthy of note.
The new petroleum minister studied architecture in England and then at the Howard University in the United States and attended Cambridge University for her MBA before joining Shell in 1992.
The only sticking point in her choice as the Minister of Petroleum Resources is the fact that she would begin to learn the inner workings of the ministry, especially now that the sector is in transition towards the post Petroleum Industry Bill regime.
Critics also argue that Alison-Madueke who held the position of External Affairs Director in Shell may not have what it takes to handle a sensitive sector like petroleum which is central to the nation's daily life.
But some persons told our correspondent on Tuesday that she was elevated in the oil company as the ED to compensate the oil producing state.
Would she have the strategies to galvanise the international oil companies to provide the gas needed by the power sector to improve generation especially as she is their product?
The former minister of petroleum, Dr. Rilwanu Lukman was accused of being uninterested in solving the crisis of gas supply and not being firm in getting the oil firms to meet their domestic gas supply obligations.
Alison-Madueke will also be challenged to conclude the deregulation of the petroleum industry and must be ready to take the sticks that would certainly come from labour and other Nigerians.
Already some persons are insinuating that she will do the biding of the oil firms who have been clamouring for the fiscal terms proposed in the bill to reviewed.
But the days ahead will tell.