"Goodluck Jonathan must take over now" … Victor Attah huhuadmin E-mail Print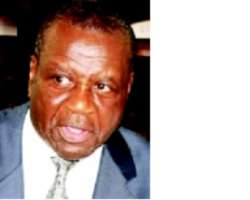 The constitution is very clear on this too. If the President has to be out of the country, his Vice must be properly mandated to function in his position. The constitution did not say how long the president can stay out of the country for health reasons or whatever but it does"
Your Excellency, how has it been since you left office as governor of Akwa Ibom State in 2007?
Politically, you know I am a founder and not a founding member of the Peoples Democratic Party (PDP). There is a distinction and that is why I am making it. As at today we are about three of such founders still remaining as members on the PDP Board of Trustees. I am therefore a life member of the Board of Trustees (BOT) of PDP. We are supposed to be the conscience of the party. So, I try to keep myself busy politically at that level in an effort to establish internal democracy for our party because we need it. We in PDP have to admit that we need that. But personally, I have never been a full time politician but I was full time in governance which technically is politics when I was the governor of Akwa Ibom for eight years. Professionally, I have been back to work as an architect and town planner. I opened a branch of our office, Inter Designs Partnership more than 18 months ago in the central area of Abuja. We are on the seventh floor of Nigeria Re-Insurance building. But some things disturb me a little bit about that and I would share it with you and that is the paradoxical attitude of Nigerians. I find that the average Nigerian would shout crucify him, crucify him if any public officer is accused and not even convicted of having stolen money. Nigerians do not like to hear that any public officer has stolen money but it seems they expect you to have stolen money because they come back to you and say why you can't leave this work, why do you have to do this after being a governor? So, after being governor, what are you supposed to live on? My pension from Akwa Ibom is about N1.2 million a month and out of that I am supposed to pay five members of my staff including a cook, driver, two security people and a personal assistant. So, if you don't go back to work, what are you supposed to live on? Are you expected to have stolen money? This is the paradoxical attitude that I don't understand and we have to overcome it so that people who are prepared not to steal money and expect that they can go back to work when they leave office can do so. People are still expecting that you can pay house rents for them, pay school fees for their children and hospital bills. It is ridiculous. So, Nigerians have to decide whether they want corruption by public officers or that they do not want corruption by them. But I enjoy my profession and I am back in it.
On internal democracy in PDP, how much of that have you achieved now?
It is not much and that is a blunt statement and that is why we are trying to establish it now. You can see the difficulty we are running into in Anambra and several other places. But I think it is coming. I am glad that now we have at least recognized that it is not there yet. So, we are working towards it.
A major challenge facing the nation today is the lingering health crisis of President Umaru Yar'Adua. What is your feeling especially against the seeming void in leadership which his absence has created in the Presidency?
I want to make two observations before I answer that question. First, I find that when Nigeria is faced with a crisis, rather than sit down to analyze the problem, we tend to be very emotional and allow sentiments to overpower our sense of logic. The second observation is that in a society that has an established system, things tend to work on the principle of; if this, then that, if that, then the other. But in Nigeria, things tend to work on the principle of if this, ask the president, if that, ask the president, if the other, ask the president. So, it suggests to me that in Nigeria, we must have a president that must be always here. With those two observations, I would now like to look at what the people are saying about the president himself. Some are shouting let the president resign and that the problem of his health cannot hold the country to ransom. Others are saying, if anything happens to our president and he cannot function, the Vice President must also go. Another group is saying the Vice President must take over if the President cannot function. The constitution specifies clearly what must happen if the president cannot function. That "if" is the big issue that has not been addressed yet. But of course, I agree with those who say that if the president cannot function, the vice must take over because we cannot do anything that is contrary to the constitution that is supreme. I agree with that position entirely but having agreed with that, let us look at what other people were saying. They said the president is ill and the Vice President cannot sign the budget and so, the country is being held to ransom. Should it be so? My answer to that is no but resignation is very extreme and final. You cannot resign today and come back tomorrow to say I want to rescind my resignation because I am well now. I agree that we do not have to have created a situation in which we don't have a functioning, if you like, a de facto president. The constitution is very clear on this too. If the President has to be out of the country, his Vice must be properly mandated to function in his position. The constitution did not say how long the president can stay out of the country for health reasons or whatever but it does state that if the president has to be away, his Vice must be adequately empowered by a letter to the Senate to allow the Vice President to function. As far as I am concerned, that is something that can easily be corrected if it has not been done because we have an emergency situation. The Vice President can function in the position of the President until we determine if the President is well enough to come back and function or not. Even that is also spelt out in the constitution. The people that are saying that if the president cannot function, his Vice must also go; I like to ask, why must anybody say that? My answer is simple; they are protecting zoning. If you remember, when Chuba Okadigbo left office, we brought Wabara and when he left, we brought in Anyim Pius Anyim and when Anyim left, we brought Ken Nnamani. All of them are from South East zone. It was because within that tenure, the position was zoned to the South East. People are saying if anything happens, the Vice President must go, the Senate President can come and we conduct new election. They are just protecting zoning. But we must accept that this arrangement is not in Nigerian constitution. But for me, that can easily be corrected even though that has to be in the future. For the time being, I have said if anything happens to the president, God forbid, the Vice President by constitutional provision has to take over. But this can be corrected, if you like, by saying we want to do a Nigerian constitution that says if anything happens and the president cannot function, his Vice would take over for three months within which period, we would conduct election to bring out a new president from the same zone as the former president. We are from the South South where the Vice President comes from but we would not accept if the Vice President takes over and somebody says, you took over for one year and you have had your turn. No; we have not had our turn. We would like to have our full turn. So, this aspect of constitutional amendment can come and there is nothing wrong with it. We will just be making that aspect a Nigerian provision to respect the zoning. What I am saying is that we must in every instance follow every aspect of the constitution. If we do not want a situation that we can truncate somebody's tenure, then we should change the constitution to make it possible for us to have a very quick election to bring out a president from the same zone as the former president. At any point in time that a president has to be away, the Vice President must be empowered to function as the President. Now I have talked about tenure and zoning but let me say something because most of you know that I was a very active and strong member of the group called Africans-for-Obama. I went to his inauguration and something was said there that this is the 56th inauguration of the 44th president of the United States and I came away with one thing and that is that of the previous 43 presidents, only 12 made second term. But here in Nigeria, we think that once you are in office, you must have second term because the constitution permits it. The constitution only permits; it does not guarantee it. All the constitution guarantees is that if you are good, you will do four years and if the people think you are very good, they, the people can bring you back for a second term but not just because there is a constitutional provision for the possibility of your doing two terms, therefore, you must do two terms. No. So, all these statements about no vacancy are not proper and not democratic. We should let people know that even within the four years; you can be impeached if you are not good. So, for you to get a second term, the people must consider that you are good enough to bring you back and not just because there is a possibility or that the constitution permits it.
You talked about zoning but it is only an internal arrangement by the PDP. Do you think other parties subscribe to that arrangement?
Well, I think the zones have been recognized even in the Nigerian constitution today. I don't know whether it is a PDP creation only. I believe the six zone creation has been accepted as a reality. I believe that nobody would say that his own zone should not have an opportunity to produce the president.
What is your view on the effort to form a mega party in Nigeria?
My position is that there should have been no parties at all. That is where Professor Nwabueze and I started from and we were branded Zero Party People. There were several reasons why I did not think there should be parties. It may be too late to now say abolish all parties but we are looking at individuals who are saying I am going to win as an individual on a particular party platform and switch to another party. So, nobody would say that this zero party thing was as stupid as it sounds. I think we should have started from there and of course, there is no individual that can have the type of money that a party can have.. But I would tell you a story why I strongly support the mega party. I told you earlier that I am a founder of PDP. I met a very high officer in one of the institutions that is supposed to help us conduct credible elections. He came and introduced himself to me saying that I may not know him but he is so and so and that he was the person that made it possible for the PDP to win in so and so state. When there was a rerun somewhere else, he said he was posted to that other State to make sure that PDP wins the rerun election. So, if we were in a position where there were two candidates of two different parties any one of which could win, do you think that man would have been so bold in making sure that a particular party wins? So, this business of one party always being assured of winning does not help democracy at all. This is where I think an alternative party would help us to grow democratically. It is from that point that I am looking at the mega party, but whether it will even succeed or not, I do not know. I believe that if we had two parties, any one of which was big and strong enough to win elections at any one time, you would see better performance, less corruption and more development. This is because we will now say my party must perform so that the people can put us back in power, rather than whether they like it or not, we are coming back. That attitude is not helping democracy.
The PDP was aware that Yar'Adua, its presidential candidate in 2007 was not physically fit to lead Nigeria and they put him forward. Why?
Yar'Adua, our presidential candidate then challenged you to a game of squash and no one took him on it. So, how do you want me to believe that he was not physically fit to be president? Let me tell you from a completely different point of view from the people who say they are blaming Obasanjo for bringing Yar'Adua. For me, that is nonsense. You can condemn Obasanjo for his cynicism if he knew the health condition and brought him but you can only blame all of us because Obasanjo had only one vote on that day. If you did not want him, why did you vote for him to be president? I think the matter should end there. If you say there was no election which is why we all want political reform you are right because right from the constitutional conference of 1994 and 1995, one thing that has been identified with me is the call (the sanctity of the ballot box). It was for the same reasons that people like us earlier advocated zero party system because there was no individual that could do what a party like PDP could do. And if we didn't have party system, they would not have been that powerful and now that we have party system, we have to try and reform it so that the parties can become democratic and we would see democracy grow and we would be able to choose who we want and who we do not want at a particular time.
Do you advocate a political solution to oil well controversy between Akwa Ibom and Cross River States since the ceding of Bakassi Peninsula to Cameroon?
In 2004, I advocated for the enforcement of the United Nations Commission on the Council Law of the Sea (UNCLOS), which provides that whatever you do to boundaries, you must respect traditional titles. Political solutions came from President Obasanjo after we lost Bakassi. While the president was working on a political solution, Cross River State went to the Supreme Court but when we lost Bakassi, it withdrew the case but Akwa Ibom countersued. That is why we are where we are today. If we had enforced the UNCLOS law, there would not have been problems. I keep insisting that there were existing recognized boundaries but they said no there were never boundaries. If there were never boundaries, how were we sharing money before? There were boundaries and traditional titles and we know why we created unnecessary controversies but this is not the venue to talk about it. I can tell you some of the exchanges between me and the former president on this matter. Some of them were unbelievable and you would not think that we are dealing with a serious national issue. But we have a situation now that has to be solved and I cannot pretend that I have the solution in my head.
Recently, the Ike Nwachukwu-led elders committee of the PDP visited your state and was said to have settled you and Governor Godswill Akpabio. To what extent did they achieve results?
You know Ike Nwachukwu committee has just submitted its report to the National Working Committee (NWC) and it is now under consideration. That much was admitted in the recent National Executive Council (NEC) meeting of the party which unfortunately I didn't attend. I really do not want to go too deep into that until the party takes a decision on the matter on the report. From a personal point of view as I said that day openly and I can repeat it here, I was not expecting people to come and say, 'I apologize' to me because my issue was not a personal one. It was based on the internal democracy that we talked about earlier; that we do not, as I speak to you today, have a party executive for the PDP in Akwa Ibom.
From your vantage position, do you think the Presidential amnesty to Niger Delta militants has finally put to rest the crisis in that region?
We like to go from one extreme to the other. The present administration has done a lot but it cannot be final because even some of us have suggested to the government what the follow up action should be. My position to the government is very well known. I talked about massive physical development and at the same time creating employment. I cannot say that the crisis has finally been laid to rest but I can say they have taken a major decision towards solving the Niger Delta problem.
What is your relationship with governor Akpabio now?
I will continue to offer advice and I will continue to commend him where he has done well. But I will completely condemn whatever is going wrong. One thing about me is that you would not find me just condemning but will make alternative suggestion.
What is your assessment of his administration?
I have been running away from that question but I know that some people believe that the governor has spent more time campaigning for his second term than governing the state. They also believe that a lot of what we hear about projects and developments might just be hyperbolic exaggerations and distortions and that there is far less on the ground there than we are made to believe in the media. And that what we have on the ground is not at all commensurate with the phenomenal amount of money that has gone to the State. There seems to be some truth in what is being said but I have not investigated it. When I was in Akwa Ibom, I initiated bread and butter projects as well as transformative projects. Such transformative projects are the like of Le'Meridian Hotel and Golf Resort, which everybody is talking about now as becoming the ideal and preferred place for national and international events and conferences. But the people who would come to your hotel, how would they come? Therefore, you must have an airport; but would you have an airport that is only for transporting passengers? My answer was no, because today they are talking about closing down non-viable airports. So, I put something there that makes it viable that is the Maintenance, Repair and Overhaul (MRO) facility which is capable of earning large scale foreign exchange for the state and the country. But these things should run efficiently; therefore, you must have 24-hour constant power. Then we built a power plant of 181 megawatts which was commissioned by the former president, Obasanjo in May 2007. What was left was the transmission line. I knew the importance of Information Technology (IT) so I started a Science Park and sent people out of the country to go and train in IT. By the way, when I was building the airport, we trained people in piloting, in airport management, control tower, fire fighting, security and in all other aspects so that when the management company came and started recruiting it found enough Akwa Ibom people to employ. We started the University of Technology. …All these were some of the transformative projects, including the Seaport in Ibaka. So, we were building all those transformative projects and also the bread and butter projects such as providing roads, schools, water, housing, health facilities and all that. Those are the obligations of any government.
Would you like the present government in Akwa Ibom to continue in power beyond 2011?
As a founder of the PDP, I would want my party to win in the next election but PDP must field a credible candidate. I said before that second tenure is permitted but not guaranteed. Therefore whoever wants it must convince the people that he deserves it. If PDP wants to field Akpabio, it must be convinced that the people will vote for him. That is all. I alone cannot change anything. It is the people that would decide who should come back or not. But we still have a problem in this country making a distinction between official and personal relationships. Somebody came to me and said now that you have been reconciled with Godswill Akpabio, I hope you are going to work with him. I looked at the person and told him: Do you realize I am not his wife and so cannot work with him on the domestic platform; do you realize I am not his commissioner and cannot work with him on the governmental level? I can only work with him on the PDP platform but if the party refuses to create a PDP for us in Akwa Ibom, how do I work with him?
How do you cope without the usual perks and paraphernalia of office since 2007 that you completed your second term?
It is funny, the one think I had difficulty getting used to was the siren, when everybody has to jump out of the way for you. I was in the aircraft one day and when we got to where we were going I was trying to bring down my briefcase and somebody asked "why are you doing this your Excellency"; where is your Personal Assistant. I told him that such things came with the office and also went out with the office. Because I was used to somebody carrying my briefcase for eight years can I no longer carry my brief case now that I am out of office? I am very comfortable. What I am missing out of office now is that sometimes I see things that should be done for the benefit of the people that are not being done. Even though you make suggestions nobody listens to you. The frustration is in knowing what should be done, advising and watching how money is being squandered otherwise.
|
Article source