A Thanksgiving Press Statement By Adamawa State Chapter Of The APC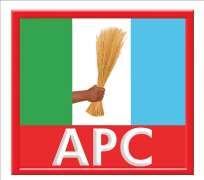 Adamawa state chapter of All progressives Congress, APC, today conveyed a thank given press conference at the office secretariat in Yola.
The Chairman of party in the state,Alhaji Shuaibu Ibrahim Yamusa,while introducing the three successful senators and the six house of representative members,He specially extende a vote of thanks to the people of Adamawa state with the hope to still win in the controversial Michika and Madagali federal constituency which INEC asked for a rerun election in one of the ward, he thanked the people of the state for strengthened the course of Democracy by coming out in their great numbers to vote for APC the only party for social change, also call on the people to come out en masse on 11th April to vote for APC Governor and all the 25 law makers in the state house of assembly.
The success winners who at various time gave their words of thanks as their central message to the entire people of the ardent faith to change the state with their good intention as the party slogan implies change
One of the winner from Adamawa north senatorial destrict, Mrs Binta Marsi Garba Tumba said she had a parliamentary experience and such she closely work together with the other law maker to bring meaningful development in the state.
"It all started like an impossible thing,to sustain the party (APC) in this state, but I forecast that we a going to produce three senator and seven members house of representative,it came to pass and my joy no know bound" Garba said
In his own response the first son of former governor Nyako, Abdulaziz Nyako who is be representing Adamawa central senatorial district attribute and dedicated his success to his father who has never been in the country since the adder of impeachment ushered him out of Adamawa state government house saying if not because of his father support he wouldn't have made it.
"I want to first of all dedicate this success story to my father real admiral Murtala Nyako if not because of him I wouldn't have made it.I thank the people of Adamawa for counting me worthy to this noble cause" He said
Abdullahi Muallahyidi who said he is going to be representing the biggest senatorial district (Southern) with miriads under developed chains of backwardness its done on him to be having a task for his people.