…BIG LOSS TO NIGERIA –BANKOLE, MIMIKO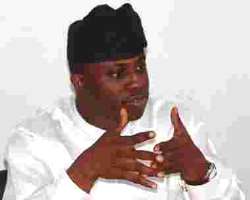 Hon. Speaker, House of Representatives, Dimeji Bankole
The Speaker of the House of Representatives, Mr. Dimeji Bankole, condoled with the government and people of Kano State over the sudden death of a former governor of the state, Alhaji Abubakar Rimi.
In a statement released in Abuja on Monday and signed by his Special Adviser (Media), Mr. Ebomhiana Musa, the Speaker said he was shocked when the news reached him that Rimi had passed on following a robbery attack.
Bankole said the sudden death of the former governor was a big loss not to the government and people of Kano State alone but also to the Peoples Democratic Party, which he co-founded in 1998, adding that Nigeria has lost one of his great leaders and a nationalist.
Meanwhile, Ondo State Governor Olusegun Mimiko has described Rimi's death as yet another big blow to the nation, especially the downtrodden whom the late politician stood for.
Speaking through his Chief Press Secretary, Mr. Kolawole Olabisi, on Monday, Mimiko said Rimi's death after an attack by suspected armed robbers on his way from Bauchi to Kano had raised the spectre of insecurity on the nation's highways.
While urging relevant security agencies to ensure that the robbers responsible for the politician's death are arrested, the governor also called on them to ensure the safety of all Nigerians on roads.
Mimiko said Rimi would be remembered for his support for the downtrodden alongside the late Alhaji Aminu Kano and other progressives when they founded the Peoples Redemption Party, adding that the nation had lost a rare gem.
He said, 'The death of Alhaji Abubakar Rimi is a big blow to Nigeria. We have not only lost a true crusader for the enthronement of true democracy in Nigeria, but we have also lost yet another of the foundation blocks upon which our democracy was built.
'He was a fearless man, a true democrat, one who had zero tolerance for inept leaders and was downrightly factual in his comments and criticisms on burning national issues. It is such a shame that he had to die in the circumstances in which he died.'