Nyako Praises Bala Nggilari for halting the activities of Boko Haram in Adamawa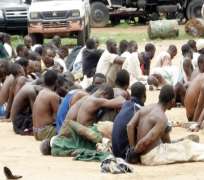 The ousted Governor of Adamawa state Real Admiral Murtala Hammanyero Nyako yesterday in a live Radio program of Gotel Radio" Demokaradiyya Ayau" presented by Shekarau Yerima said Bala have real tried to see that Boko Haram could not have much ground in the state, he was able to see that all the captured areas by Boko Haram were taken back by Nigerian Army.
"Bala is a good Man,I know him very well he can't support what is bad that's why is given a good cooperation to the Nigerian military to see that Boko Haram cannot have a base in Adamawa state,the military too are doing a good work also begging them not to give up or tied". Murtala said
The Sarkin Yakin Adamawa who spoke to the Adamawa people through a telephone call in Hausa language for the very first time since he has been impeached as the sitting Governor of the state two days to the presidential elections, calling on all the people of the state to come out their big numbers to cast their votes for APC.
"I am calling on all the Adamawa people to vote for Buhari on Saturday (28th March) is the only person that will change Nigeria and the destiny of every body, let every one exercise their franchise right for APC from top to bottom as all the candidates in the party are beyond comparable".Nyako added
The impeached Governor blamed PDP and the presence administration for being laxity and under rating the issue of insecurity in the country. According to him all the PDP members rallying around Goodluck Jonathan are his saboteurs