THE COMFORTER: COVERING UP HEINOUS PAST FOR LOVE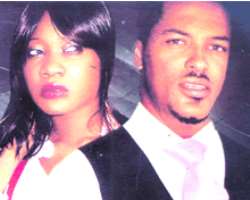 Inapt title but not so bad movie
SBN Rating: 40%
How do you tell your boyfriend whom you love dearly that you are a murderer and the person you killed is his cousin albeit unknowingly? That is the dilemma Mercy Johnson (Amarachi) had to deal with in The Comforter which we learnt is a continuation of Comfort my soul.
Amarachi is the kind of girl you want to take home and the kind your home would gladly welcome but she has a complicated past. After putting her complicated past behind her, she found love in Van Vicker (Henry) and his family welcomed him. But she is caught in the dilemma of telling her man the whole truth about her past.
Her past as terrible as her parents dying of food poisoning and stabbing Nonso, Henry's only cousin to death. She chose the easy way out. She lied. She lied that she is an orphan and pretended as if Nonso never existed.
But just like it always happens in movies, her past caught up with her two days to her wedding when Henry's aunty came into town and burst her bubble by spilling the beans that she killed her only son and alleged that she also poisoned her parents.
Expectedly Olu Jacobs and Clarion Chukwurah , Van Vicker's parents threw her out of their lives despite her proposed wedding. But a road accident involving Nonso's mum brought Amarachi who is now a sort of hospital evangelist back to their lives. She donates six pints of blood to atone for the guilt she felt and paid the ultimate price after the woman recovered. Judging by Nollywood standards, this movie is not that bad but we do have issues with a couple of things.
Inappropriate title
We are still trying to figure out who The comforter is. Is it Henry who believed all the lies fed him about his fiancée or Amarachi who needs all the comfort in the world herself? The producer could have chosen a better title for this movie and this is synonymous with the anything goes attitude of Nollywood producers.
Bad casting and poor delivery
These are other creative faults of this movie . Why in the world did the doctor act as if he was some clerk of nursery and primary school? The priest was also not convincing and Clarion Chukwurah acted as if she was only concerned about protecting her make up which is very obvious in all the scenes. Van Vicker did not do badly but his movements were sometimes slow for the pace of his character. At the hospital scenes and the scene where he wanted to kill himself he was saying something while his face was saying another. Uncle Olu Jacobs was not assertive enough as a father but you can't fault him.
His delivery in the scene where he threatened that his son would be thrown into the car by thugs that accompanied him is flat and his response and delivery when Van Vicker claimed to have seen a sign that convinced him Mercy is a witch presents him as an actor whose mind is on next location. Mercy Johnson stands out but not that much because we have seen her in far better production.
. In most Nollywood movies, the two lovers would have ended up marrying themselves. The crew behind the production had enough brain to do something better if they chose to. The major problem with this movie is the fact that the crew, producer, director and even the DOP did not set out to do a great movie.
If you've been enjoying stuffs Nollywood have been offering of late, you won't find this movie that boring.