Voting Right Movement Tackles Mrs. Patience Faka Jonathan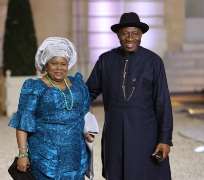 The VRM, as an NGO that is totally and passionately committed to the protection of the integrity of electoral process in the country; condemns in the strongest terms the recent call by the wife of President Goodluck Jonathan, Mrs. Patience Faka Jonathan while delivering a campaign speech in Ikom, Cross River State at a rally of PDP Women in the state two weeks ago that the PDP faithful should stone anybody that shouts, "Change".
The speech is outrageous and mindboggling and unbecoming of a woman of such exalt.
It is worthy to note that "Change" is the slogan of the opposition, All Progressives Congress. We make bold to say that the speech by Mrs. Patience Jonathan amounts to an instigation and inciting supporters of the PDP to attack those of the APC.
It is completely unbecoming of Mrs. Jonathan to make such a hate speech that is calculated to arouse passion and cause violence. There is absolutely no need to resort to use of such intemperate language that is capable of causing a breakdown of law and order by Mrs. Jonathan; who as a woman and the first lady of the country should be in the vanguard of the crusade for a peaceful election.
We call for restraint among politicians in the country on the use of language that is capable of being misinterpreted by their supporters and use as a plank to unleash violence on those who belong to the other side of the political divide.
It must be underscored that the use of such hate speech is prohibited by the Electoral Act, 2010 (as amended) and is therefore a criminal offence.
It is disheartening and a huge disappointment that neither the Presidency nor the PDP have deemed it prudent to disassociate themselves from the inflammatory speech of Mrs. Jonathan.
Such studied silence obviously sends wrong signals of acquiescence or support of the radical approach of Mrs. Jonathan that those on the other side of the political divide deserves nothing but death by stoning.
We readily recall the sentence to 20 years imprisonment of the wife of the former President of Ivory Coast, Laurent Gbagbo by the International Criminal Court if Justice for inciting violence that engulfed the country after her husband lost the presidential election; and urge politicians to note that any politician whose utterances incites violence during and after the election must be held to account.
Yours faithfully,
For: Voting Right Movement
Signed:
Florence C. Ozor
Barr. Okoi Obono-Obla
Sesugh Akume
Daniel Olatunde
Web: www.vrmnigeria.org
Twitter: @vrmnigeria
Facebook: Voting RIGHT Movement