Boko Haram: Hunters killed a suicide bomber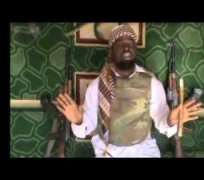 Tashar Marghi area of Gombi town in Adamawa state witnessed a large turned up of crowds in the early hours of today (monday) as some of the residents of the area rushed to a scene of how a suspected suicide bomber was killed by local hunters while trying to detonate an IED on a mosque
The many residents were also griped with fear and apprehension for sighting an air crafts hovering around the town in military colours depositing expired bombs in the surrounding bushes.
An eyewitness who confirmed the incidents said around early hours of Monday when the Muslim faithful were observing prayers a suicide bomber attempted to launch a bomb attack on the Mosque at Tashshar Marghi area of Gombi town but met his water loo.
"Early hours of Monday during the dawn prayers, a suicide bomber carrying two explosives have been shot and killed by local hunters.
He noted that the development has reignited tension in the area following the suspected bombs deposited behind the Walawa hills by military hovercrafts.
He said they became suspicious of the said hovercraft as it kept hovering the town for a very long time and was depositing expired bombs which at first they thought it was real bombs.
Another resident in the area, Mallam Kalla also noted that at first they thought that the hovercrafts was depositing bombs which led to tensions and apprehension in the area but later discovered that they were depositing expired bombs.
"After a long time encircling the town, the hovercraft finally deposited weapons suspected to be bombs behind the Gombi hills, which at first we thought they were depositing real bombs but later we were told that the military were depositing expired bombs " he said
While confirming the two developments, the Public Relations Officer of Adamawa state police command DSP Othman Abubakar said the bombs in questions have expired and the authorities dropped them there adding that residents should go about their businesses as the bombs will not cause any harm.
''Yes military authorities have confirmed to us, that the bombs have expired so people should not be scared,'' said he.
"On the killing of the suspected bomber, the DPO of the area has confirmed the development to the police command but he is yet to give us the detail" Othman said.