I WOULD HAVE DIED LONG TIME AGO — PASTOR OKOTIE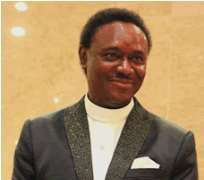 Rev. Chris Okotie
Pop star-turned pastor of Household of God and 2007 presidential candidate of Fresh Democratic Party, Rev. Chris Okotie has sensationally revealed, how God miraculously healed him of poison in Kaduna.
Still adorning the vestiges of show business, the flamboyant pastor also told Saturday Sun how Satan appeared to him three months after his salvation experience and announced to him that he was going to be a preacher. But even then, he says that he always knew that he was going to be a preacher because Jesus talked to him when he was just three years old. On campus, according to him, he encountered Jesus again and He admonished him for 10 hours.
Okotie, in this interview, also relays his father's relationship with the late Chief Obafemi Awolowo, who he met at the Calabar prison and Nobel Laureate, Prof. Wole Soyinka, who he met at Kirikiri prison.
He spoke about his wife, Stephanie and many other things, revealing things he never exposed before.
Let's look at your childhood, parental background and upbringing.
I was born in Agbede, Edo State on the 16th of June 1958. My father was a teacher at the time and we were a small family, though later, we metabolized into a very big family because my father became a polygamist. We were basically Catholics. Even though my father had meddled in traditional African religion, he still gave the latitude to his children to make a choice as to whether they were ready to embrace Christianity or not. So, in a nominal sense, we became Christians.
Which schools did you attend?
It's very difficult to remember most of these things, but the ones that I remember are the schools that I attended in Lagos. Ginado Anglican School, somewhere in Falomo or the Obalende area. Then I attended another school in Kirikiri, but I don't remember the name, because my father was then a civil servant in Nigerian prisons and from there, I went to Edo College. I did my O'Level and A'Level there and proceeded to the University of Nigeria, Enugu campus to read Law. I went to Law School for a while and then from there, I went to the School of the Local Church in Tulsa, Oklahoma.
What influence did your father leave on you?
My father was very strict. He was a disciplinarian and he had a sense of duty because I remember he told us the story of Professor Wole Soyinka. Prof. Wole Soyinka was brought to prison in Kirikiri at the time when he was an officer in that place and if you read Prof. Wole Soyinka's book, The Man Died, you will see my father's name there. He always had a certain moral perpendicularity. He had principles by which he lived and by which he served the state and he was patriotic. I also remember that he told us about Chief Obafemi Awolowo because the man was my father's friend. My father was an officer in the Nigerian Prisons in Calabar when Chief Obafemi Awolowo was incarcerated and they became friends and throughout his lifetime, he was constantly in touch with my father. I remember that he would always send, maybe, Christmas cards, Easter cards. He was that kind of person and so my father told us about the great Chief Obafemi Awolowo and I think that was when I began to understand the concept of patriotism, as it relates to nationhood and all that. So, those were the things that he inculcated or instilled in me; maybe, even unconsciously without him realizing that.
As a child, did you play truant?
Most children do. I'm not an exception, but because of the fact that we had an overseer -my father - his paternal superintendence was so palpable wherever you were, even if he wasn't present. But you would always hear this voice in absentia and that control mechanism kept us all in line, particularly me, because he would always have an eye for me. He thought I was quite insubordinate and recalcitrant and so he handled me with a certain iron fist that I didn't appreciate at the time.
Did you complete your Law School?
No! I was in Law School when… well, this is what happened. After the exams at the Law School, my result was not published.
Why?
I don't know. So, I went to the authorities and complained that I didn't see my name on the result sheet. I mean, did I pass or did I fail? And nobody said anything to me so, while we were discussing, I got admitted and had to go to the United States for this Bible School thing because I had been informed that I had to be there before a certain date in the month of August. Till today, that matter has not been resolved and in any case, when I got the call to minister, I left Nigeria and I went to pursue my Bible studies.
What informed your desire and decision to go to Bible school?
I became a Christian on the 7th or so of November, 1983 and I came into Law School in 1985. At that time, I began to sense that the Lord was asking me to preach, even though the devil had appeared to me three months after my salvation experience and told me that I was going to be a preacher because it was Satan who first announced to me that I was going to preach and I though that was a ridiculous thought because I didn't know anything about scriptures and I'd no experience in ecclesiastical circles but Monday, I was in the ref at the Law School and the Lord spoke to me about sending me out to school in the United States, where I was going to study. That's how it began and I was so scared.
I didn't talk to my wife, I was married then to Tina; until Tina told me, a month after that, the Lord had spoke to her during a Sunday service at the church we were attending then. It was Christ Chapel. The Lord had already told me that we were going to go to school, but I was too scared to tell my wife about it; so anyway, by the time she confirmed that, we began to make the preparations and I already knew because I was receiving revelation. When I would pick up the Bible and I would read the Bible, I had a deeper understanding than most people around me and so it was an authentication of the fact that God had called me to full-time ministry.
Your turn-around to become a pastor was a shock to many. How were you converted?
My conversion process was a long one and it had several angles to it because I had several friends -people who talked to me about Jesus at different times; but the first thing is that I always knew I was going to be a preacher. I always knew it. When I was three years old in Uyo, on a Sunday morning, it had rained earlier on and I was playing with a couple of my friends. You know, as little kids, I remember very clearly, we were playing around a pool of water near a Qua Iboe Church and suddenly somebody began to call my name. They used to call me Bom-boy then. Christopher was a name my father gave me. They didn't start calling me my name, Christopher until I got into university, so they used to call me Bom-boy, you know and I looked around. I didn't see anybody. Then I asked, una dey hear the person?
Somebody dey call me. You know, as kids, they ignored me because they were more interested in what we were doing. And then the person walked up to me. I could sense that and instead of holding my hand, he held me in the heart. I felt it and he pulled me towards the church. So, I followed this man. I knew it was a man and we came to the door of the church. It was open because a service was going on and they were singing at the time. And I stood right there at the door and the man said to me, look at your Father's house. So, I looked round. I thought, this is not my father's house; my father's house is down the road, you know. But this is what the person said to me: 'look at your father's house.' So as a little boy, I thought that was not my father's house and then he left. I went back to my friends and we continued. It was later on that I got to understand who He was and that it was the Lord Jesus Christ and that He was telling me, at the time, what I was going to do with Him.
So, throughout the period, even when I was a singer, I had that consciousness that I belonged to Him and my father used to have a problem because after a while, he sensed that I didn't have that filial connection with him. It was like, am I not your dad? I would say, yes, you are but he knew that I felt differently because I thought that my father was God. I couldn't explain it. It wasn't because I was having a seminal righteous living experience. I didn't have that. Anyway, different things happened to me but one of the most important was in Kaduna in 1983. I was on like a valedictory tour because I'd decided then I wasn't going to play music and I hadn't been to the North and in the process, while I was there I was poisoned a night before the programme. I passed out and they took me to a hospital and two days later, I was told that they couldn't do anything about my case and that I needed to contact my family to be flown abroad.
They said there was something inside my stomach but I could feel it. I was quite alarmed. Anyway, to cut a long story short, before I had left the campus for this tour, a friend of mine, who is a member of our church now, had told me about Jesus. He said, 'look Chris, anytime you get into a jam, talk to God about it; talk to Jesus. He will help you.' Then I remembered what the guy said.
I was bed-ridden at this time. And I said, God, Brother Ezekiel told me that if I got into a jam and like a situation like this, I should call you. So, I'm calling because I really need your help and if you could do something about this situation, I will serve you. Thirty minutes later, my stomach started distending. It was like when they burst a balloon and it is deflated. That's how it just went down, like that and I knew I was well and I got up, took off all the stuff they put in me. I had all this drip and stuff and I dressed up and l left. Of course, I came to Lagos and I didn't keep my word. I went to nightclub, told them how I nearly died in Kaduna, but it was like two months after, I went to another meeting on campus and I thought the whole thing was ridiculous. I tried to cause such a distraction. I didn't want anybody to listen to him. The guy who was ministering was a friend of mine. He's a pastor now. I didn't listen, but then I went into my room at about I a.m. Jide Obi and I were there together. We went for the meeting. He is a friend of ours.
As I walked in, the Lord Jesus was already waiting for me there. He told me to sit down and I sat down and He began to talk to me for almost 10 hours because I remember at about 4 a.m. Jide came to the door because he had been in the female hostel. He had lost his car key, so he wanted me to take him home and he came there and heard me talking with somebody and thought that I had somebody, but it was only my voice he was hearing; so eventually, he knocked and I was happy that somebody came; so I quickly ran out of the place and I took him home. When I came back, the Lord was still there. So, at about 12 the next day, I had got to the experience of understanding that 'all have sinned and come short of the glory' because I kept telling Him, I'm a good man, I'm not a bad guy and so what is it? You know, the heart of man is really deceitful and hardened and he had to pulverize all that to get me to understand the gospel that he was sharing with me.
How did you manage the early stardom, which you found yourself?
I think that were it not for the grace of God and the fact that He had already set me apart for a work, I probably would have died a long time ago because the life of a young person, who had access to financial resources - money without any parental supervision - is fraught with danger. It jeopardizes your very existence.
From about 19, fame actually began and it was so sudden and it was beyond my wildest imagination and I found myself in the best hotel in the country at the time, with enough money to do whatever I wanted to do. I had funds and because I didn't have that spiritual understanding of who God was, even though I knew that he was waiting, because of that experience I had when I was three years old, I still went through a lot of contradictions within myself that led to drinking, which is probably the only thing that I did. I didn't take drugs. I didn't do anything. I was too scared of that and I thought God would be offended, but it could have so easily ended my life and terminated God's plan for me had it not been that He was on my side and He had already purposed that I was going to end up a preacher. So, most of the things I did then, I don't even remember because of the stupour that one was in and the kind of friends that I had. I thank God for His grace.
You said you drank. Did you ever smoke?
Not at all! No, I didn't. You mean if I smoked a cigarette?
Yes?
Yes! Ordinary cigarette, yes. I hardly smoked cigarette because my head was too light. Every time I smoked, I was so busy; so it wasn't really a habit for me.
You didn't mention womanizing, which is supposed to be common with such age group and stars. Were you not into that?
No! No! I've always been a one-woman kind of person; so everybody knew who my girlfriend was because she was always there and I was very reclusive, I didn't go out. So, it was difficult for people to access me, except you were friends with me; so I didn't have that problem of girls here and there. I didn't have that. The only vice I would say that was problem in my life was drinking and it was done out of boredom because I was really bored of things. I was really, really bored; so there was nothing to do. I didn't go to parties. I didn't do shows. I didn't even like performing live; so the only escape that I had from reality, more or less, was the alcohol but that was it.
Is it that God asked you to stop playing secular music or you just decided?
He didn't ask me. He did not. It was in 1983. We had just done that last album. I think it was in 1982 or 1983, possibly; mid 1982. I'm not sure now, but I'd just done my last album, Please Don't Go. I was with my producer, Mr. Odion Iruje, in London. On this particular night, we had gone out, since the work had been done. It was a successful job, well done and I had friends all over, in the hotel where we were. At about 2 a.m. or so, I just realized that I wasn't going to do commercial music anymore. I didn't discuss with him. I got up from my room. I went and knocked at his door and said I wanted to sleep with him. He thought something had happened. I said to him that what we did was the last album I was going to do. I told him that thereafter, I was not going to do commercial music anymore. I told him I wanted to go back to school. My father always wanted me to graduate as a lawyer and I wanted to do that. I told him I wanted to go to Vienna, in Austria and from there, I would go to school. That was it. I knew when the time came that I was going to another level and there was something else that I was going to do. I didn't know what it was, but I knew I didn't want to do this music anymore.
People know that you and Jide Obi were good friends. Where is Jide Obi today?
Well, I'm told that he is in England. We have a mutual friend who told me. The last time I saw him, he was on his way to the United States, many years ago, but I'm told that he is now residing in London.
Must a pastor go through a Bible school?
Let me put it this way: It doesn't have to be a Bible school, but he must come under some form of tutelage because if he does not, how can he understand the work that he is called to do? It doesn't have to be school per se but he must learn. After all, Paul learnt under the supervision of Gamaliel. He has to sit under tutelage where he can study the Bible and understand doctrine and understand precept upon precept, line upon line; understand biblical interpretation, like eschatology; so that he can disseminate that information without corrupting it. That's why the Bible says, study to show yourself approved unto God, a workman who needs not to be ashamed but rightly dividing the word of God. So, it's important.
Why is Household of God a kind of one-branch church, unlike some churches?
Because I can only be a pastor in one place at a time. We believe in our own definition of church government that only Jesus can appoint a pastor and that's what the word of God says and when He appoints a pastor, He gives a vision to that pastor and that pastor is answerable only to Jesus. But for administrative reasons, we've discovered that many other churches have established branches and whether they be Episcopalian or the Presbyterian or the Pentecostal, they have a reason they do so, but we know clearly that every pastor who has a ministry is autonomous and ought to be answerable to nobody in terms of vision and the responsibilities they have towards the Lord Jesus.
Can you share some of your experiences as a pastor, like in counselling members and solving their spiritual problems?
We don't really have much to do in the area of counselling because the word of God that is presented from the pulpit takes care of most of the problems of the people. Like the Bible teaches, once the full gospel is being preached from the pulpit and people understand the Word of God, it is profitable and it prepares them and furnishes them unto every good work. Except a few cases, most of our people are well grounded in the things of the Lord and then, they have the answers already, except a few scenarios where there is confusion, but otherwise, we haven't done too much in the area of counselling. I have found out, throughout this period, that the call of God is predicated on the grace of God and the understanding and the revelation that I have received into the Word of God have come through that instrumentality of the grace of the Almighty God and He has blessed us and expanded us and corroborated His presence in the ministry by all of the things that He's done; so I have learnt on the job. I am one of those pastors that learnt on the job because I got saved in 1983. I became a pastor in 1987 - four years after - and the dynamism with which I went into it and the level of understanding projected our church beyond my wildest imagination, in just a few years that the economical society in this country knows a lot about Household because of the strong pulpit ministry and the revelation that has come forth.
Why have you not compiled your recent gospel songs into a full CD?
Well, it's a matter of time. We are really pre-occupied, at the moment, with building structures for our church. The new structure that we are building now is going to contain a recording studio. It has to be of a certain standard that people will say, well, we are not surprised. They identify with my level of excellence. That's basically it. We haven't really had the time because there has been a lot to do in church.
Who are your role models and why?
Growing up as a young minister, there were two men that I really admired in Nigeria: The Arch-Bishop of Church of God Mission, Professor Benson Idahosa. For me, he blazed the trail in kingdom assignment; in kingdom empowerment, in the demonstration of the power gifts. His bravado, his determination, his power, his humility are some of the virtues that I admired, still continue to admire in him even though he's gone to be with the Lord. Outside of Nigeria, Brother Kenneth Hagin Snr. He brought the message of faith and taught it in such a simplistic manner that anybody could understand it and yet be inspired and his books really influenced me and helped me to understand the walk of faith and I was very excited when I actually got to meet him when I was in school in Tulsa. So, those are the two men that really inspired me in ministry.
As a handsome man, how do you cope with sexual advances from women?
(Laughs) You don't have to be a handsome man to be admired by women. All you have to do is have enough money, you know. In the society that we live, things attract women like that - power, wealth and all of that, but it hasn't been a problem for me because right from about the age of 19, I've been in the public eye. I have always been admired by people - television through music and all that; so it hasn't been a problem for me, but because of the fact that my lifestyle is so simple and because I don't go out. I'm still quite as reclusive as I used to be, even though I still go to church and do my work but it's either I am at home or I'm in my office. I hardly ever socialize. It is difficult for people to have any access to me and then, coupled with the fact that I do ministerial work so the proclivity of women to admire as to even articulate what they feel.
Have you ever been sexually harassed as a pastor?
No, not at all!
What informs your dress sense?
I think it is my pedigree in show business. Coming from that kind of background, one has been exposed to the fashion world and not just fashion but avant-garde fashion now, you know. What I've done is to bring a certain spiritual moderation to my fashion sense so that it is decent and in order but our church is very contemporary in our dress sense, in our general outlook and even in the presentation of the gospel to create a contemporary relevance within a contemporary society. That's the way it is.
Why do you like high-sounding words knowing that communication should be simple?
I communicate, I can assure you. If I couldn't communicate, I wouldn't have a church but I think that in the process of communicating, there are certain words that constitute a certain elevated diction, but it is not all the time, but I think the modality; the fact that it wasn't something that was identified with the church. In the presentation of the gospel, our approach was slightly different and unorthodox and we were able to intellectualise the gospel because the gospel had been preached in such a way that it created the impression that ministers were only pedestrian in their outlook and in their understanding of scripture but we were able to ascend to a level of intellectualism while still communicating the gospel with much assurance and with revelation. So, it is not that one is just interested in elevated diction and a grandiloquence that makes it impossible for one to be understood, but rather we are presenting the gospel before an ecliptic assemblage of men and women - technocrats mainly, in our congregation who understood where I was coming from and appreciated intellectualism in the presentation of the gospel.
Some people see you as a car freak. Is it an addiction or part of your fashion?
I don't know why they think so. I don't have many. (Laughs) Why do they think so? Because I bought my wife cars? No, I'm not. I don't think I'm anything near that. A lot of people have several and several cars. I like cars, definitely, but I'm nothing close to an addict by definition so I think it is a misunderstanding.
Some pastors, these days, engage in other businesses. What other business do you do apart from preaching?
You know I own a record company called Sellah Records and we produced Love Medicine in 1990; so that company still exists and sometime, one still gets royalties from it. I also have a publishing company, which published my book, The Last Outcast; so one still gets royalties from things like that and those are the only two things that I would say right now that I'm doing outside and I'm not directly managing those organizations but they belong to me.
Have you ever come close to death?
Many, many times.
Can you recall, at least, the most grave?
When I finished writing The Last Outcast in 1999, I had an experience from the kingdom of darkness that I thought I was actually dead. Because of what is contained in that book, Satan felt very threatened and he summoned the host of hell. I was in Honduras at the time and they brought this contraption. I cannot describe it because it was a spiritual experience. It's like being crushed by 10 containers. I thought I'd been completely smashed to pieces on my bed and I was just waiting to step out of my body. I said, definitely, I'm dead but why am I still in my body? Why am I not stepping out of my body? I said, well, may be, I'm not; let me try and move certain parts of my body - my fingers, move my toes - and I realized that God had protected me.
I've had several encounters with the kingdom of darkness and it is an occurrence that I'm used to now; my life has been constantly threatened by Satan but God has continued to defend me, and to show Himself strong on my behalf so let us say I'm not afraid of that experience anymore.
Can you recall your most embarrassing moment?
I think it was one day at the Law School. The Lord had been sharing some things with me concerning Adam and creature and the revelation wasn't yet complete because I used to get so excited and I would go to our fellowship (we had a fellowship at the Law School) and I would share with them and people would wonder where I got my knowledge from. Now, on this day, we had this fellowship at the Law School and people were sharing things and I remember that the Lord had told me not to talk about it but I was very excited and so when He called me and said… because my wife used to call me Revelatus, 'Mr. Revelatus, come (Laughs). Come and reveal to us what's going on (Laughs).' So, I came out there and started talking about what I had been instructed not to talk about and at that moment, I can never forget that experience in my life; it was as if some spirit came upon the people and everybody turned away from me and began to engage in some kind of argument. So, as long as I was talking about that, nobody paid any attention.
They didn't even remember that I was standing in front of the class and it was so loud that they couldn't hear my voice; so I just sat down there and I was thinking, 'Oh God'. When I recognized, I asked the Lord to forgive me for my presumption. Everybody just kept quiet and turned round and said, 'Okay, Chris, what were you saying? (Laughs).'
Can you share your happiest moment so far with us?
Okay, let me put it this way: I think the happiest moment I have had since I became a minister and in the recent past was when I got married to Stephanie. It was probably one of the happiest days of my life and I just recognized that I had entered into a certain rest with God and with myself and she was everything I always wanted and she still is and it was just the culmination of my desire to stablise as a man; to enter into a place of refreshing - what the Bible calls refreshing and it was an exhilarating moment for me.
Why did you have to criss-cross continents for your honeymoon?
Well, first, I could afford it. Two, I thought she deserved it. Three, it made us happy. Four, it would provide me an avenue to express my love towards her in the gifts that I would purchase for her and I wanted to get away from everybody and just be with her. I could have got to the moon if it was possible.
You had said sometime ago that the Lord told you were going to have twins from that marriage…
Yes!
Are the twins on the way?
Not yet. You know, people say to me. 'Ain't you concerned about the fact that you don't have children?' And I say no, not at all! But the truth of the matter is that I already have one child - my first child - and when I say that, they think I'm talking about somebody outside. Stephanie is my wife and my first child and if you speak to her, she will explain it to you because she is so childlike that I'm very satisfied at the moment just bringing her up. So, she is not just my wife. She is my first child. I look after her the way I would look after my child. I do most of my work in the night and so she goes to bed before me. So, I have to sit beside, make sure she is in bed, sing to her sometimes, you know; talk to her until she falls asleep and then I go to my office. I have an office here (his residence) to do my work. Sometimes, I go to bed 4a.m. because that's when most of my work is done. So, I have that sense of responsibility towards her; not just as a husband but as though I'm her father. Even, I'm like 12 years older than her but she has such a childlike heart that I feel like we already have a child here; so by the time the twins come, it will really be like having three children because she will always be my first child and my wife, you know. That's the way I feel.
Are we to expect a book from you soon after The Last Outcast?
Well, it depends on the happenings. There are certain prophecies within the book that have to be fulfilled for there to be a sequel. That's what it is and once these things transpire, then it will necessitate a sequel; so we are watching. Some of them have taken place and a few others are still expected.