Bayelsan Tragedy: Mrs. Obiano Condoles With Mrs. Jonathan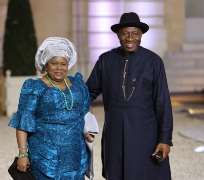 The wife of the governor of Anambra State Chief (Mrs.) Ebelechukwu Obiano has extended her condolences to the First Lady of the Federal Republic of Nigeria, Dame Patience Jonathan on the death of some wives and daughters of Bayelsa State who lost their lives in an auto crash while returning from a courtesy visit to her on Saturday February 14, 2015.
Speaking on receipt of the news, Chief Mrs. Obiano said that she felt greatly saddened that the First Lady, her household and the good people of Bayelsa were struck by such tragic loss at this period when Nigeria needs her best and brightest to continue its quest for a stronger nationhood.
Said she: "I received with sadness and great regret, news of the fatal accident that plucked the lives of these great daughters of Bayelsa State. I am saddened by this terrible loss which came at a time our country needs the input of her best and brightest in the quest for nation-building. On behalf of my husband, the Governor of Anambra State, His Excellency, Chief Willie Obiano, our women folk and the people of Anambra State in general, I extend my deepest Condolences."
Continuing, Chief Mrs Obiano observed that, "This is a tragic incident that leaves us all depressed. The victims of the auto crash are of one humanity with us; indeed they are our sisters, friends and compatriots. A part of us has been snatched away without warning and it is bound to hurt."
Furthermore, the wife of the governor stated, "Our thoughts and prayers are with the families of all those who died in the mishap and the good people of Bayelsa State in this moment of grief. We stand by you at this hour of sorrow and ask you to take heart in the fact that the time and manner of our death is determined only by God. Let us be further consoled that these women died in the cause of national service. It is our prayer that God will admit their souls to eternal rest and grant their survivors and loved ones the grace to bear this loss".
Willie Is Working (WIW)
C/O: Engr Ifeanyi Aniagoh - The Executive Assistant to the Governor on (Social) Media + 234 803 739 1543
Read Willie's Blog @ www.willieisworking.blogspot.com
Like Our FaceBook Page @ www.fb.com/wiwggc
View Our Online Album @ https://www.flickr.com/photos/willieisworking
Join Our Yahoo Group @ https://groups.yahoo.com/group/MeetObiano
Follow us on Twitter @WillieIsWorking on www.twitter.com/WillieIsWorking
WIW - A Peek Into the Days of Chief Willie Obiano in the Government House