Arise News receives Emmy nomination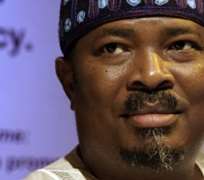 The National Academy of Television Arts & Sciences announced the nominations for the 58th Annual New York Emmy Awards with the documentary 'Game Changers: How the Harlem Globetrotters Battled Racism' – produced by ARISE News recognized in the Nostalgia Program category.
This was contained in a statement issued in New York on Tuesday.
'ARISE News is a different kind of 24/7 news and entertainment channel,' says co-executive producer and chairman of ARISE News Nduka Obaigbena. 'We provide coverage and perspective on global events seldom given airtime.'
Former LA Lakers owner Don Sterling's explosive comments exposed the undertone of racism that still exists in professional basketball, says the statement. It continues: "No players are more aware of this pernicious bias than those who played for the Harlem Globetrotters in the 1940s & 1950s.
"Long after Jackie Robinson hit his first ball as a Dodger, the NBA was still a 'whites only' league.  This Arise News Special takes an historical look at the early days of professional basketball and how the Harlem Globetrotters not only dealt with racism, but also helped change the world of sports."
ARISE News Co-Executive Producer Alan J. Weiss adds, 'The story of the Harlem Globetrotters mirrors the Civil Rights struggle in America.  It's important that these often overlooked heroes – lionized around the world, but treated as second class citizens at home – receive the recognition they deserve.'
Hosted by ARISE News anchor Julian Phillips, the documentary includes interviews with former Globetrotters: Wilt Chamberlain, Meadowlark Lemon, Marques Haynes, William 'Pop' Gates, Gene Hudgins, Andy Johnson, Charlie Hoxie and Carl Green.
Members of the Arise Team who contributed are Executive Producers:  Nduka Obaigbena and Alan J. Weiss; host:  Julian Phillips; writer:  Deborah Gobble with  Marilou Yacoub as Producer and graphics and animation were done by Pierre Vilmenay while Larry Michaels and Jack Niesi are Studio Directors.
According to the statement, this is the first nomination for ARISE News since its soft launch in 2013.  ARISE news will be formally launched this year. - Thisday.