Kemi Lala Akindoju takes the lead role in Tunde Kelani's "Dazzling mirage"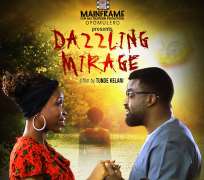 Dazzling Mirage, the much anticipated movie by renowned cinematographer Tunde Kelani, is set to hit the cinemas on Friday, 20 February, 2015.
The emotional movie is a love story which revolves around a sickler who against all odds embarks on a journey for survival, overcoming social stigma and prejudice. The movie helps to raise awareness about the sickle cell condition and to help people make better and informed decisions.
"Dazzling Mirage is an inspiring story which I recommend for people, not just to watch but to take home its rich laden message" said Lala, who played the leading role in the movie. "It is an answer to a call and this movie is a must watch for everyone" she added.
The suspense filled and intriguing movie profiles notable figures from Nollywood actors like Kemi 'lala' Akindoju, Kunle Afolayan, Seun Akindele, Taiwo Ajayi – Lycett, Bimbo Manuel, Carol King, Yomi Fash Lanso, amongst others.
"Dazzling mirage is not just a movie, there is no such thing like a level playing ground in life, the choice is out there to make if we want to make our society a sickle cell free from the pains we put ourselves and others through" said Tunde Kelani, the producer of the film.
Shot in Lagos, the movie is an adaptation of a novel of the same name authored by Olayinka Abimbola Egbokhare, and adapted to screen by Ade Solanke. This film about love, perseverance and fate unfolds through a sickler's experience in life struggle. It was first premiered at the Muson Centre Lagos, and has enjoyed a nationwide tour spreading its message of hope and survival to people.
About Kemi Lala Akindoju
Kemi Lala Akindoju is a World Economic Forum Global Shaper, thespian, producer and drama teacher. The Youngest person to ever produce the international play V. Monologues Lala Akindoju cut her teeth as a stage actor appearing in over 70 productions since 2005. Lala is a talent scout who has created several new stars with her Open Mic Theatre and has professionally consulted for MTV, Ndani TV, amongst others in the area of talent. She has also consulted for several art projects with the British Council, the iRep film Festival, Woman rising festival amongst others. In 2010 she won the award for Actor of the Year at The Future Awards Africa and was recently selected for the International Visitors Leadership programme by the United States Public Affairs Section.
About Red Communication
Red Communication is a PR & Communication firm under the parent company, RED. An innovative media group focused on Africa, RED's vision is to excite and empower an evolving generation through the media's limitless possibilities. Built across tools and platforms, its Communication Division holds Red Communication, Red Marketing and Small & Medium, and StateCraft; and its Content Division holds the Y! brands, including Y! TV, Y! Radio, Y! Magazine, YNaija.com, Teen Y!, Y! 2015, the Y! Tech 100 and the Y! Annual Black Ball/Y! 100 Most Influential List. It also anchors a development firm, The Future Project, which co-presents Africa's leading youth platform, The Future Awards Africa, and other projects including the Nigeria Symposium for Young & Emerging Leaders, 100,000 Jobs and #StartupsAfrica.
DAZZLING MIRAGE POSTER
DAZZLING MIRAGE.JPEG
KEMI LALA AKINDOJU 1
KEMI LALA AKINDOJU
POSTER OF DAZZLING MIRAGE