GROUPS STAGE PRO-IWU RALLY IN ABUJA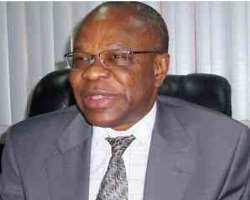 Three pro-democracy groups on Thursday in Abuja staged a rally seeking the tenure extension for the Chairman of the Independent National Electoral Commission, Prof. Maurice Iwu's tenure.
The groups – the Alliance for Defence of Democracy, National Youth Coalition for Progressive Transformation and the Northern Patriotic Forum - called for the extension to enable him to conduct the 2011 general elections.
According to the ADD's Coordinator, Ikenga Ugochinyere, 'Electoral process can only be consolidated where there is continuity in leadership.'
Ugochinyere argued that section 157 of the 1999 Constitution made provision for the re-appointment of the INEC chairman, 'so why are people crying even when the chairman has two months to go.'
The NPF leader, Alhaji Ali Abacha, said that the call for Iwu to be disallowed to continue as INEC chairman undermined the essence of having a competent hand to handle the 2011 general elections, the News Agency of Nigeria reports.
'Prof. Maurice Iwu is not the problem, but an electoral reform that will relief the presidency from appointing the Commission's chairman as recommended by Uwais report,' Abacha said.
NYCFPT spokesperson, Mr. Araka Okolieabor, said, 'If Iwu is allowed to continue in office, he will replicate the success of Anambra election.
'Removing Iwu from the office at this critical time is capable of dealing a great blow to the successful conduct of the 2011 general elections.'
Receiving the group, Mr. Stephen Osemeka, Secretary, Publicity and Election Observation Unit, INEC, expressed the commission's readiness to conduct credible elections in 2011.