HOW I MET WOLE SOYINKA –ODIA OFEIMUN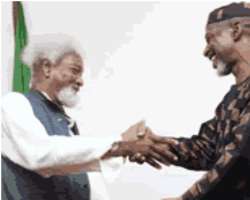 Celebrated poet and activist, Odia Ofeimun, has had the enviable privilege of enjoying close interaction with two respected figures who represented his interests. The first is Chief Obafemi Awolowo, the late founder of the Action Group party which dominated South West Nigeria in the post-colonial era. The other is Prof Wole Soyinka, Nobel Laureate and world renowned literary figure.
Together, both had had a huge influence on Ofeimun's life. From a young age, his admiration for his late political mentor has not waned. After his secondary education, he worked briefly with Midwest Echo, a sister paper of the Chief Awolowo owned Nigerian Tribune and later worked more closely with the late politician as a Personal Assistant.
Fired by a consuming passion for poetry, like every aspiring poet/ writer of the time, closely associated with Prof Wole Soyinka, Nigeria's most acclaimed poet was almost an unrealistic fantasy due to his (Soyinka's) busy schedules. But if the maxim is true that first impression lasts long, then Ofeimun's first encounter with the Nobel Laureate was a turning point in his life.
Like two principals in a movie script, Ofeimun in Lagos recently stood before Soyinka and a large audience to relive memories of that encounter. It was a unique experience for the audience who had gathered to hear first hand the meeting between a mentor and a protégé. This could only happen at an event commemorating the 60th birthday ceremony of Ofeimun which held at the National Institute of International Affairs (NIIA), Victoria Island, Lagos. The event was organized by CBAAC and a committee of Ofeimun's friends.
With relish and attitude, Ofeimun who took a trip from Lagos to Ibadan recalled that encounter. ' It was as if the gods were on his side, said he, 'Without an inkling of whether he was around or not, I walked towards his house. He was driving out of his compound at the University of Ibadan in an open mini-mock. He saw me by the gate and stopped. Immediately I handed to him a paper where I wrote some of my poems. He took one long look at me as I looked like a factory labourer. He looked at the poems and asked if I was the one who wrote them. From the day he asked me that question, I knew all my dream of becoming a writer since I was a 12 years old was on course.'
That meeting would later blossom into a rapport that earned him a place in Poems of Black Africa (Edited by Wole Soyinka, 1975). As a mark of appreciation, Ofeimun presented Prof Soyinka with a copy of Lagos: A City At Work and he got a bear hug and a pat from his master. This was greeted with a standing ovation by the audience.
Drawing a lesson from the life of Prof Soyinka, he said, 'One thing he (Soyinka) taught that we have not quite learnt from him is that, when an elder goes after one as if he owes one something, when someone who is known to be always very busy still finds time to reply every letter even if it is just one line, he makes a promise to buy you a book and he never forgets, if one is looking for training, that is one kind of training anybody should desire.'
Typical of Ofeimun, he went on to lament the decay of cultural preservation owing to little or no presence of cultural institutions. The few available, he noted, have been left to rot.
The union was one of the highpoints of the occasion which had in attendance contemporaries and friends of the celebrant. In welcoming the guest lecturer, Prof Mahmood Mamdani on his first visit to Lagos State, Ofeimun also presented a copy of the book to the scholar whose work in African history, politics and international relations has commanded huge respect around the world. Mamdani spoke on the theme Sudan & Congo: What Lessons For Nigeria? while other discussants include Prof Biodun Jeyifo, Prof Chidi Odinakalu and Mrs Adeleye-Fayemi.
Ofeimun also noted, 'From childhood, I have nursed the ambition of bringing people together under a situation such as this.' Other personalities on the occasion include human rights activist, Barr Femi Falana, Ekiti AC Guber aspirant, Kayode Fayemi among others. Prof Tunde Babawale, Director General of CBAAC explained that the decision of CBAAC to celebrate Ofeimun was in recognition of the celebrant's sterling qualities and contributions to scholarship, arts and culture. Said he, 'As a poet, his verses initiated a paradigm shift in the ethics and aesthetics of the poetry of socio-political engagement in Nigeria. Through his Poet-of-the Week page in The Guardian On Sunday, he helped many budding poets launch their career, thereby bringing their talents to national attention. Ofeimun's contributions to national development are not restricted to literature alone. As a political activist, Ofeimun used his writings to fight social ills.'
Activities later moved to the Banquet Hall of the National Arts Theatre for a double feast of food and a stage dance drama. It was the presentation of Ofeimun's Feast of No Return directed by Felix Okolo and his brilliant cast from Hornbill House. The culturally rich large cast production held the audience spell bound for a little over an hour. The four main characters were played by experienced hands such as Efe Mayfor Orhorha, Nissi George, Kayode Bolaji Idris and Ombo Gogo Ombo.
One of the highpoints of the reception which was anchored by Jahman Anikulapo was when Ofeimun hit the stage for a short dance. The author couldn't resist the lure of an all female band led by Topsticks, a female percussionist. Other attractions of the occasion include readings by protégés and friends of Ofeimun such as Dr Remi Raji, Aduni Abimbola Adelakun, Ogaga Ifowodo and Jumoke Verissimo. Ben Tomoloju and the Crown Troupe of Africa also added colour to the occasion with musical/ dance renditions.