Former State House Press Corps Chairman, Daniel Idonor passes on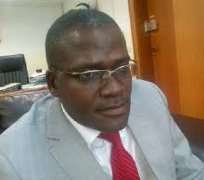 The former Chairman of State House Press Corps, Mr. Daniel Ovwigho Idonor, has died.
‎Idonor popularly called "Chair" by his colleagues in the media, passed away on Monday afternoon, at the Nigerian Air Force Hospital, Abuja, after a protracted illness at the age of 45 years.
‎In a statement by his friend and partner, Horatius Egua, the Managing Editor of Frontiers Alliance Communications Limited publishers of Frontiers Newspapers Online, said Idonor who was until his death,  the Executive Editor of the media outfit, was devote Christian and a Deacon with the Living Faith Ministry.
Idonor, an all-round accomplished Journalist and Fellow of the Nigerian Institute of Social Works And Geriatric Studies, had over 25 years working experience, 10 years of which was spent in covering the activities of the Presidency in Aso Rock, the Nigerian seat of power. He was Chairman of the State House Press Corps, for fives years.
The late Idonor started his journalism career at the Nigerian Television Authority (NTA) Bauchi and at different times worked for Champion and Vanguard Newspapers respectively before he ventured into online publishing.
Idonor was also a Student Union activist. He rose to the position of President of the Student Union Government (SUG) of the University of Jos. He was also the Secretary of the Correspondents Chapel of the Nigerian Union of Journalists (NUJ), Bauchi State Chapter.
He was also a one time Assistant Secretary of the National Association of Niger Delta Professionals.
‎Idonor entered the mainstream politics on the platform of the ruling People's Democratic Party (PDP) where he aspired to represent his senatorial district in 2013 before he was advised to step them by the party hierarchy.
He was a top contender for the House of Representatives primary election in his Ughelli-Udu Federal Constituency, in Delta State under the platform of the PDP before he withdrew from the race early December 2014.
He would be greatly missed by his family, colleagues, the Urhobo nation and numerous students who had benefited immensely from his scholarship programme.
Idonor who always referred to him self as a comrade, is survived by a wife and four children.