Comedian, Uche Ogbuagu Drops Album, Ka O Puo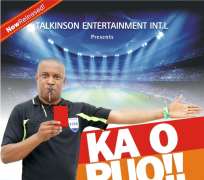 After a long trail of controversy, Nigeria's top comedian cum entertainer, Ambassador Uche Ogbuagu has released his much anticipated comical album, titled: "Ka O Puo."
The album which is said to be the most hilarious and philosophical outburst from the voice of the deceived and oppressed, according to sources close to Ambassador Ogbuagu who is a media Executive in the Transformation Ambassadors of Nigeria (TAN) is exclusively distributed by Remmy Jes Productions Limited, in its outlet nationwide.
During an interaction with newsmen recently in Owerri, Ogbuagu who informed that the 3 tracks album has one recorded in English language (Leaders of Next Tomorrow) which x-rays the true position of average Nigerian youth in today's politics, adding that the track 3 titled "Iga Awota" (You won't understand) is designed to expose the deplorable decay of Igbo culture by both politicians, religious and social class.
He further said that the album "Ka O Puo" is a promise fulfilled and that even threat from Imo state government agents who hijacked the first 100,000 copies from the distributor could not stop it, adding that they have doubled the production to 600,000 copies.
Since the final release, controversy has continued to trail it, even as a known social commentator in Imo state by name, Ifeanyi Osuagwu has described Ogbuagu's courageous effort as one without fear to stand for justice of the common man.
"We are all aware of what is happening in Imo today. What will have as a government is one without respect for due process; of which we can all attest that within the past three years of administrative reign, it's been joke upon joke.
"And I'm happy Uche Ogbuagu is out again to redirect the people on the dangers of remaining quite, instead of going out there to cast our votes for the right candidates. At least, he has carefully taking his time to expose the ills in government, and now we are enlightened," he said.
According to the rib-cracker, Talkison Entertainment International (his underground recording studio) located at Akabo, will also be releasing two albums of Imo born artistes, titled "Nigeria Dey Pregnant" by Elder Ken who hails from Orlu zone and "Onye Chimere Eze by Chief Goddy Ibeawuchi who hails from Owerri zone.
He further disclosed that before recording the album (Ka O Puo) which he said is for every home who believes in the truth, he said he embarked on research that took him years after his 2011 album titled "Oku Di Over" pleading that all those the album may offend should bear with him.
The video, he also said will be in the market in two weeks time, as well as uploading of the video on YouTube which according to him can be viewed in a week time.