" Fr. Mbaka Was Right, President Jonathan Committed So Many Sins Aginst Igbos "- Campaign For Democracy (cd)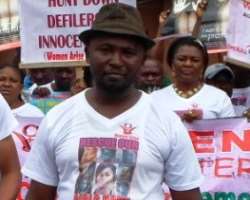 Comrade Dede Uzor A. Uzor is the Chairman, Campaign for Democracy (CD), Southeast Zone, and an Onitsha based Human Right Activist, who has delved into several unions in Anambra State including the leadership of Market, Motorcycle and Keke Napep operators commanding a huge followership.
CD is among the so many civil liberty organizations founded by Dr. Joe-Okei Odumakin, the world renowned Activist.
Dede Uzor has fought many battles even with the Nigerian police over intimidation and harassment of his people.
In this chat with our reporter, Okechukwu Onuegbu, the Activist subscribed to Rev. Fr. Ejike Mbaka's "new year resolution message" to President Goodluck Jonathan, even as he listed so many sins Mr. President committed against Igbos to that effect.
However, he added that CD is apolitical and unbiased; hence they are not in support of any candidate on the 2015 general elections.
The excerpts:
What are the programmes of Campaign for Democracy this year?
We are going to observe and monitor the forthcoming general elections without been biased. At the end, we shall document and make our findings public with neither fear nor favour. So that the voters and the entire would know who actually emerged a winner from the Presidential down to the State Houses of Assembly polls. We are going to work with NGOs and other relevant agencies in line with the electoral Act.
Do you think Nigerians need the Election in this challenging time?
Every Nigeria is concerned with the February 2015 general polls. It would help us to prove wrong the prediction made by one of the US officials that our country would disintegrate on 2015. Therefore, all hands must be on deck to prove them wrong. We must work harder for successful election; free of rancour, thuggery, violence and manipulations.
Abducted Chibok Girls were yet to be rescued, so is insecurity eating deep into the fabrics of our nation's territorial integrity; don't you think they are needed to be addressed first?
When it comes to the kidnapped Chibok Girls, the federal government would be blamed for not stepping up actions towards recuing them on time. At first, they never believed the story. That could be why they refused to take certain measures until the insurgents absconded to unknown places with our girls. But I optimize that the girls would surely be released in due time if the government double its effort.
On security in totality, I would add that although security of lives and properties require collective responsibility, it is more of intelligence. It is not all about moving out with guns, and other sophisticated weapons and ammunitions. The way forward is for the government to narrow it security measures down to training of security apparatus on intelligence gathering using modern security gadgets and interrogations. The apprehended Boko Haram members if duly interviewed could likely leak pertinent information needed in releasing the abducted Chibok secondary school girls.
You would agree with me that the case at hand is guerrilla warfare. Unlike conventional war, guerrilla fighters have no means of identification; no uniform, specific base, position and so on, but when you cross their boundary they would ambush and kill you. They may even disguise as ordinary civilians or mere observers, while unleashing terrors on you (even as a suicide bomber). That is why I am saying that our government is not doing enough. It is very painful that little girls were separated from their parents for over 200days now. There are loopholes, infiltrations in our security.
I enjoin them to rise up to their expectations. They should train and retrain our military personals, equip and send more troops with sophisticated weapons and intelligence gathering gadgets to the trouble areas in the northeast.
It is quiet unfortunate that we have high ranked and well respected military outfit, who had championed peace at International communities; Sierra leone, Liberia, Chad, among other places where they had traversed for peace keeping operation, yet we can't prosecute ours.
Well, the lapses may be as a result of government not motivating the military. I think they are not highly motivated. Most of our soldiers seem not to be enjoying the basic necessity of life and other essential things worthy of inspiring them to secure our territorial integrity not minding if they die at war front. Therefore, Nigeria government should take the bull by its horn either by addressing their emolument or whatever.
Again, some of our soldiers are too sympathetic to Boko Haram ideology. We had instance whereby they told their Commander that the insurgents would ambush them at a particular point and it does occurred as they forewarned…I think some of our soldiers see it as their own war. So, prosecuting it to final may amount on fighting themselves or their religion. Recall that "one man terrorism is another man's freedom fighting". They may be fighting for their freedom ostensibly, but that remains terrorism as far as our country is concerned.
Our government needed to find out what they truly want. If you call it war against Christians, ask yourself why do they bomb mosques? If indeed it is war against western education, what are the sources of their weapons and ammunitions, vehicles, and so on? Who is deceiving who? These are the basic fundamental questions begging for answers.
You told us to be more concerned with the February 2015 general polls; Comrade, do you have confidence that the Independent National Electoral Commission (INEC) is going to conduct credible, free and fair election?
If I say I have no confidence on INEC, had I any other alternative? There is no other electoral umpire in the country. So our expectation is that government should provide them with the necessary equipments and materials. Last week they cried for funds to purchase some of them. I am appealing to the government to hearken to their cry in accordance to the electoral Act. Addressing the issues at hand now would help in forestalling electoral malpractices.
Both INEC and Federal Government told us that the election is going to be one man, one vote. So we stand!
I am appealing to all the eligible voters to go and obtain their voters cards at the designated centers. It is their civic responsibility to vote and be voted for once they had attained the official voting age (of 18 years and above). I don't know if the issuance of INEC PVC voters' card is still on. And if yes, I encourage every qualified person to get one. That is the only means through which we can vote in credible leaders, while voting out the corrupt ones.
Recently, you returned from Israel on Pilgrimage, how could you compare the country to Nigeria in terms of development?
Nigeria has not gone anywhere in terms of development. You would be marveled if I compare both countries. Israel is 12 years ahead of Nigeria. Like India, she got her political independence on 1948, while Nigeria attained hers on 1960. But since her freedom, Israel had fought over 70 wars yet they are witnessing revolutionary development. As I am talking to you now, they are fighting war.
They have no single mineral resources, but their economy remains one of the best in the world. I was opportune to visit one of the factories where they develop diamond even though the country has none. Imagine, they import diamond from other countries, develop and transform them into exportable commodity in Israel. They are among number one on diamond.
On agriculture, Israel is a deserted nation, but through irrigation farming, they are renowned on production of apples, oranges, wheat, and other agro-allied products.
During the 1947 war, they used 4,000 aircraft to prosecute the war.
Also, the person I interviewed at River Jordan during the pilgrimage, told me how Israel was able to contained malaria in 1954, and the endemic left them ever since.
The Isreali security is also fortified with security gadgets, and qualified learned personals. For over two weeks I spent in the country, I saw no single police officer standing by the road side, harassing people or carrying guns about unlike what is tenable here in Nigeria.
Back home Sir, for almost a week now, Rev. Fr. Ejike Mbaka's recent attack on President Goodluck Jonathan is generating reactions everywhere, what is your take on that?
We are in democratic setting. Fr. Mbaka is entitled to his opinion. He is a good Nigeria, so he is free to express himself. Somebody needed to go back and start analyzing Rev. Fr. Ejike Mbaka's position in our society before he could find out the truth of the matter. He is not a politician, but a Roman Catholic Priest.
President Goodluck Jonathan we know is a child of circumstance; from lecturing to Commissioner, Commissioner to Deputy Governor, and later got elevated to Governorship position and further rose to Vice President, from their ascended to President.
Statistically, once someone is VP, he is in Aso-rock as well. So, Jonathan became an authority in the federal government right from when he was elected VP. He had spent 4 years (as VP and President in replace of Late President Yar'dua), and about completing another four years without executing single project in the Southeast. If you add the years together, it would amount to approximate 8 years. So tell me if Mbaka was right or wrong when he said that this man (Jonathan) has not performed? Remember that Fr. Mbaka was here in the East when the purported Commissioning of Onitsha Seaport took place. It is a year now, go there to investigate the matter. There is nothing going on their!
What of Awka/Onitsha through Enugu Expressway, Enugu Port Harcourt road, Enugu-Owerri road, Onitsha to Owerri road, Second Niger Bridge, to mention but a few abandoned federal roads and projects. Tell me why Igbos would be very happy to vote for a man, who had failed woefully to address their myriads of needs? South East gave Jonathan overwhelming support right from 2010 to date.
Another failed project is the so-called Akanu Ibiam International Airport, Enugu. During the pilgrimage, we boarded flight from the airport to Tella viv, the Israeli International Airport. I am glad to let you know that the airport is a glorified deplorable Nkpor-Awka road. Quote me anywhere, I can defend it. Go there, you will see it yourself, everywhere is covered with wild bushes. A particular portion of the airport had been submerged by erosion, posing challenge to travelers.
Tell me, why Fr. Mbaka should not speak out his position? This man failed us for 8 good years when the price of crude oil was stable, when naira was good, is it now the price of naira and oil have diminished in the international market he would perform? Our economy has crumbled, youths jobless, everything is in sorry situation.
Last time, ex-President Obasanjo pointed out that Jonathan had squandered about 35 to 40 dollars he left in the foreign reserve while in office. Tell me how much Jonathan had reserved. How many criminals and politicians had been convicted of crimes or corruption?
As far as Campaign for Democracy is concerned, we are not supporting any candidate. But Jonathan had failed Igbos and Nigerians generally. We leave all to the voters, Igbos in particular to decide if Jonathan had performed or not. Igbos and you-Journalist should decide if Mbaka was right or wrong on his opinion? He plies the roads in questions which had terminated so many persons.
Hence, I am calling on the police to provide Fr. Mbaka with adequate security. It is their responsibility to protect the lives of Nigerians. If a high ranked Clergyman as Mbaka is crying that his life is threatened because he uttered truth, I think our democracy is sick. This is right time to secure him and his environment. We are in democratic society.
Whether his speech was directed by the Holy Spirit or not, you can see to it yourself that our roads are deathtraps, electricity no go area, water a forgot issue, etc.
Sure-P is another fraudulent policy the federal government introduced to siphoned our funds. I am calling on the relevant authorities to investigate the matter and persecute the bad eggs behind the menace. Fr. Mbaka had told us that he takes care of over 500 people through his NGOs. Is it not government responsibility to cater for the populace? Now unpaid Priest is doing it for free.
What are the ways forward?
In as much the government promised us one man, one vote, Nigerians wait for 2015 general elections. That is the best time of effecting changes in our dear country. Let the vote count. If not, the crises that might take many lives might occur. So, I am appealing to the government and INEC to ensure that our votes count. If the incumbent President wins, let him be declared a winner. But if he fails, and someone from opposition wins, he should be announced and handed over with the mantle of leadership. That is the stand of the civil liberty organizations and Nigerian voters. We are unbiased. Again, there is a need for total orientation and reorientation of every Nigeria in all areas of our lives.
Disclaimer:

"The views/contents expressed in this article are the sole responsibility of the author(s) and do not necessarily reflect those of The Nigerian Voice. The Nigerian Voice will not be responsible or liable for any inaccurate or incorrect statements contained in this article."
Articles by Comrade Onuegbu Okechukwu