FG can't account for $14.6bn oil money - Aregbesola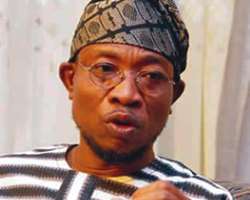 Vice Presidential candidate of the All Progressives Congress, Prof. Yemi Osinbajo, on Friday led a campaign rally in Akure tagged Walk for Change, but it was Governor Rauf Argbesola of Osun State who stole the show when he accused the Goodluck Jonathan-led government of failing to account for $14.6billion oil proceeds between July 2013 and July 2014.
The rally, which was organised by the Buhari-Osinbajo Campaign Organisation, was meant to sensitise Akure residents ahead of next month's general elections.
Speaking at the rally, Aregbesola said the Federal Government had displayed incompetence in handling the funds that accrued to the country from oil exploration.
Aregbesola said the excuse of crude oil theft was assailable because President Jonathan as Commander in Chief of the armed forces had the requisite security apparatus to stop the stealing of crude oil.
'$40m worth of crude oil is being stolen everyday amounting to $14.6bn since 2013 even when the contract to protect the oil pipelines has been given to ex-militant, Tompolo,' he said.
The governor told the APC members who thronged the venue that the fund that had been stolen in the last one year was enough to pay allocation of all the states of the federation for four years.
He said, 'The amount that has been stolen in the last one year is N2.2 trillion when converted to the Naira, the money is enough to bring development to the states of the federation who are groaning under shortage of allocation to states.'
He said the crude oil the federal government claimed was stolen, resulting in the shortage of allocation, was not actually lost but stolen by cronies of the Peoples Democratic Party-led federal government.
Aregbesola said Nigerians must vote for change so that public funds going into private pockets would be distributed to all Nigerians for development purposes.
Osinbajo in his remarks promised that the elderly and the poor would earn incomes when his party ascends the Presidency.
'There are many people who do not know yet that we have the first social security scheme in Africa that the elderly who are poor and the very poor, will begin to earn a monthly income,' he said.
Osinbajo said the Osun State of school feeding would be adopted for all school children, and adequate security of lives would be guaranteed.
The Chairman of the party in Ondo State, Isaac Kekemeke, expressed his delight with the large turnout and noted that the people of the state were ready to vote for Buhari in the next month general election.
He promised to deliver all the three senatorial seats, nine House of Representatives seats and 26 house of assembly seats to the party.
Among the leaders of the party in the walk included speaker of the Osun state House of Assembly, Najeem Salam, Hon Dada Eminence, Dr Tunji Abayomi, Dr Benson Enikuomehin, Chief Tayo Alasoadura and Fola Olaseinde among others. Agency report