Governor Obiano Thanks Ndi Anambra for Peaceful Celebrations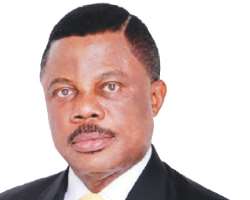 The Governor of Anambra State Chief Willie Obiano has on behalf of the government of Anambra state expressed profound appreciation to Ndi Anambra for the peaceful and memorable Christmas and New Year celebrations witnessed in various communities in the state.
The governor was particularly impressed by the enthusiasm and sense of duty displayed by Ndi Anambra through their positive response, attendance and participation in the activities and programmes of the maiden Anambra Heritage Festival which held from December 23 to 26, 2014. The Festival activities include Reading by Novelist and Newspaper Columnist, Prof. Okey Ndibe, Masquerade display at Ekweme Square, the Obiano Football Fiesta and the Jam Blast Music show held at the Ekwueme Square on the December 26, 2014.
Governor Obiano observed that the peaceful celebration was made possible by the obvious improvement in security of life and property arising from his administrations war against all forms of crime and criminality Anambra State. According to the governor, "the peaceful Christmas holidays and celebrations is an affirmation that we have won the war against all manner of hoodlums who had made our state ungovernable before now. Thankfully the steadfast implementation of our security initiatives and the commitment of the various arms of the security forces have restored faith in our state. We therefore celebrate and at the same time call for eternal vigilance and commitment by everyone to ensure that the gains are sustained. "
In the same vein, the Anambra State Commissioner of Police Hosea Karma, has described the Christmas 2014 celebrations in Anambra State as the most peaceful in recent times and attributed the joyful outcome to the commitment of Governor Willie Obiano and effort of the combined team of the security agencies under the Operation Kpochapu who ensured that Ndi Anambra had peace from criminals. CP Karma assured that his men are very committed to their work and will not allow any lapses or anything that could mar the current peace across the state as well as the security of lives and property.
The Commissioner Police also thanks Ndi Anambra for the cordial relationship with security agencies which has led to a very productive era of cooperation and collaboration leading to the sharing of vital information which assisted in the bursting of criminals in their nest.