Uforo Mathew Emerged the winner of Rising Star Gospel Show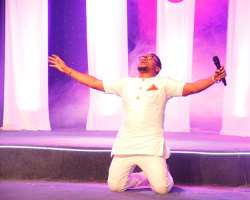 The Grand Finale which started by 6:45pm on Sunday 28th December 2014 at Celebration Arena, Full Life Crescent, Off Nsikak Eduok Avenue, Uyo, Akwa Ibom State, Nigeria was one of the best TV reality Show ever to be held in the South - South region of the Country.
Nothing beats the feeling of reaching and crossing the final line gallantly. Out of more than 200 singers drawn from the different parts of the country who stormed the auditioning ground with high hope of winning the Grand Prize, the eviction finally got the last five standing – Presh, Essien, Steven, Uforo and Usimeke to battle for the Grand Prize.
The five contestants rendered different songs proving their worth and showing their vocal prowess and dexterity. Presh opened the floor with 'That Just the Way the Father is'by Kurt Carr. He got his fan screaming after his thrilling performance. Usimeke was next in line doing Kirk Franklin's 'Now behold the Lamb'. The audience had no choice but to ask for more as Steve took to the Stage to sing 'Praise on the Inside' by James Moss; and Uforo cam with 'Take Me To The King' by Tamella Mann, her performance was mind blowing, she got all the Judges applauding her and Essien rounded up the performance by the Contestant as he did 'Ebezina'by Freke Umoh.
The next part of the show was performance by Phenomenal Rap Act – P'Harmony, who captivated the audience with his energetic performance with his hit track 'Church Party'.
Winifred came next with another eccentric performance. Nicolas Great later performed 'Edumare'while Mirobed, Nigerian version of Tye Tribbet gave good account of himself and the last Guest performance was done by renowned US Based Act – Princess Pat Akpabio, who took the audience down the country line as she gave the audience the performance of their life, she also pledged to give the 2ndRunner-up a recording contract.
The moon was too shy to shine, because a new Star was about to shine and everybody was desperate to see and know the name.
The host of the night after telling the audience to vote for the best called the Five Contestants and the guest Judge; El Mafrex to the stage to declare the Winner. Suspense became the order of the Day.
Usimeke was declared 2nd Runner – Up taking home N150, 000, while Essien was declared 1st Runner – Up winning 300, 000 for himself.
Uforo could not hold her Joy, when she was announced the Overall Winner of Rising Star Gospel Show 2014. She was filled with tears crying for her Victory.
Kudos to the Organizing Crew and all the media Partners that made the event a success.
See pictures below!