Fake Prophets Dupe Abuja Big Lady Of N50m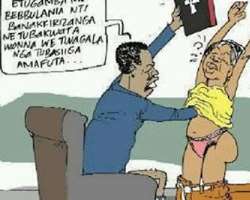 A certain Chichi Akparanta, an Abuja big babe and a prominent staff of the National Assembly, luckily escaped death by the whiskers after lost about N50million to some conmen who posed as prophets.
According to reports, Chichi gave them the money in about eight installments.
The fake prophets had informed her that she was going to lose her job and that in less than two weeks after losing her job, she would also lose two of her kids who are schooling abroad.
Based on this, and with the way they got her as well as her details correctly, she was said to have truly believed them to be men of God.
The matter got worse after they had made her cough out whopping the above amount of money and still tried to kill her when she was no longer forthcoming with more money.
The evil men gave her acid in a container claiming it was a special solution that would reveal to her who was behind her problems. They then asked her to mix it with any soft drink and take it around midnight.
Somehow, while in the process of mixing the acid, the liquid poured on the ground and she was surprised by what she saw as the acid ate up the rug in her room.
She then decided to try it on other things and to her surprise, it was the same as the corrosive nature of the acid woke her up to the reality that she would have died instantly if she had followed the instructions of the fake prophets.
Consequently, she called one of them to find out why the mixture they gave her was acting strangely, the reply she got was a question wondering if she was still alive as she was expected to be dead.