'Why Jonathan will face difficulties in South-South'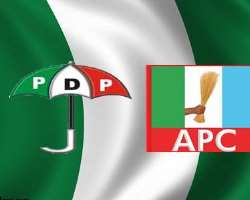 Deputy National Publicity Secretary of the All Progressives Congress (APC), Comrade Timi Frank, has the faulted widely-held notion that President Goodluck Jonathan will sweep the South-South geopolitical zone in the 2015 polls.
In an interview with reporters in Abuja, he said, 'if the 2015 polls are conducted in a free and fair atmosphere, there is no way the president will re-enact his 2011 electoral feat in the region.'
Frank claimed that the president had failed to live up to the expectations of the people of the oil-rich region, to deserve their support this time around.
His words: 'For God's sake, how can anyone say that the Niger Delta is well-secured for Jonathan? The first thing they should ask is whether Bayelsa is secured for Jonathan.
'When people say it is well-secured, it is the normal process of rigging where they sit in their government houses and write results for the president. That is what they normally do in the Niger Delta. They don't vote in the Niger Delta.
'In 2011, there was no vote in the Niger Delta. Everybody allocated votes for the president and I believe that is the mentality. Even right now, they are planning to allocate votes.
'Is it possible that you get up in a state and everybody votes for one man, even his enemies will vote for him? Even in Bayelsa, there are people who do not like the president. I can tell you that 60 per cent of Bayelsans, if not more, will vote out Jonathan in a free and fair election.
'The problem we have is that it is not everybody that has the guts or the mind like Timi Frank to come out and speak his views. It is not everybody that has the mind like Timipre Silva to come and speak his mind. It is not everybody that has the mind like Rotimi Amaechi to speak out.'
According to Comrade Frank, there were people, more aggrieved than himself and more eager to vote out President Jonathan in 2015.
'These people are waiting to see if they will be given the opportunity for fair voting; if they will even see the box to vote; some of them are waiting for that to express their anger,' he said.
'That place, South-South, where they feel that they will have 100 per cent, is where he will have the biggest shocker because people at the localities have not felt the impact of the Presidency; they have not felt the impact of having their son as the President of Nigeria.
'Under the government of Jonathan, the Ijaws became more impoverished and more undermined than when we had a Northern president.'
Comrade Frank singled out the alleged shoddy implementation of the Amnesty plan, designed by the late President Umaru Musa Yar'Adua, as a reason President Jonathan would incur the wrath of the people of the Niger Delta.
'I can tell you how we got the Amnesty programme, and some of the things that were agreed upon, as part of that programme, had not been implemented,' he said.
'It is not just sending people abroad for training that is the Amnesty agreement. If you don't know, I can tell you this because I was involved and I know everything.
'If you have the time and want me to say it, I will say it because some of these things are what they are hiding and don't want the public to know. I am not scared of anything. I must speak the truth.
'If they had gone to tell the ex-militants and our people to come out and drop their guns so that they would be trained, none of them would have done that. There were some other bigger agreements that Umaru (Yar'Adua) signed. There is a signed document on that.'
Comrade Frank said Yar'Adua made some promises because he wanted to do them for the people of the Niger Delta, as he felt this was his right and was determined to resolve the crisis in the area genuinely.
'But today, as I speak, all of those under their son, from Bayelsa, from the Niger Delta have been buried,' he said. 'I understand that when they discuss some of these things with the president, he will kick them away, telling them he won't do them.
'So, tell me, how can any credible Niger Delta man vote for him. Go and interview any of the ex-militants or their leaders — I can recommend names for you, to speak with them — and they will tell you that what I am saying is correct.
'There was an agreement between Umaru and the people of the South-South to build mass housing units in the states of the Niger Delta to compensate them. Today, where are the mass housing units after the death of Umaru and their own son, Goodluck Jonathan took over?
'Today, where is the coastal road Umaru promised our people, assuring that he would award the contract as soon as all the militant came our of the creeks? As we speak, the coastal road is not there because the government of the day says it doesn't have money to do that.
'So, if somebody from the North could give us these kinds of heavy promises we had never seen before and he was determined and ready to do it and died in the process and an Ijaw son happens to take that office, the first thing the people of the region expect him to do is to hide under those promises and do those things with the excuse that he was not the one that made the promises but the man before him and that he is only following his footsteps, but not to come and do worse.'
Comrade Frank dismissed training as the ultimate of the Amnesty programme, asking, 'after training these people, what will happen to them at the end of the day?'
'They would have caused more harm than before,' he said, adding, 'that is why you are seeing that sea piracy is strong today and militancy is starting gradually again.
'If these issues of the Niger Delta continue like this under Jonathan's government, I must say there is danger ahead.
'There is a time bomb in our region because if the local people do not get what belongs to them, there is problem. I have confidence that if today, Jonathan wins Bayelsa State, it would be rigging and not by votes.'
Comrade Frank described as 'an unbeatable combination at the poll' the choice of Professor Femi Osinbajo as running mate to the party's presidential candidate, Maj.-Gen. Muhammadu Buhari (Rtd).
'As a party, I believe that the APC has shown a proper democratic process that even the acclaimed largest party in Africa, the PDP, has never had,' he said.
'I don't know who is complaining about the choice of our vice presidential candidate. But I believe that the choice was by God because the time for change is now.
'When people ask why we took time in choosing our vice presidential candidate, I want to say that the delay was because we wanted to give the best candidate to Nigerians; it was because we wanted to follow a proper democratic process and never wanted an imposed vice presidential candidate or one that will be hand-picked by any individual.
'So, we consulted widely even outside the party. We consulted with people and Osinbajo emerged. You know that it was not just Osinbajo being considered; there were other persons and at the end of the day, we all unanimously agreed to settle for Osinbajo because this is the time we need change. This is the time we need men of integrity and experience and the time to balance political situation.'
He argued that the issue of the vice president is not all about structure, as one could be a presidential candidate without having political structure.
'When Jonathan became the President of Nigeria, he had no structures; when Yar'Adua became the president, he had no structures,' he said.
'Osinbajo today may not have structures. It is even better but because of his Christian background, he has a structure, whether you like it or not.
'The Redeemed (Christian Church of God) is one of the biggest churches you can think of and has one of the largest followers in Nigeria today. That alone is a structure. It must not be a political structure, but that alone can sell him.'
He described as fantastic other persons that were considered for the running mate post, claiming, 'you cannot compare them to the PDP vice presidential candidate.'
'So, I can tell you that we did not choose Osinbajo; it is God that chose him for us as vice presidential candidate at this point in time.'
Comrade Frank said the PDP was confused because members felt it would have been an easy beat if the APC had fielded a Muslim/Muslim ticket.
'That was their calculation because they have turned Nigeria into a complex religious issue and an issue of North and South,' he said.
'Before today, there was nothing wrong in fielding a Muslim/Muslim ticket. During the 1993 elections, it was a Muslim/Muslim ticket that emerged.
'As a party, we try to take every religion along. It is not even the issue of religion, but we believe as a party that we should carry everybody along because we must do everything possible to win 2015.
'So, if that is the case and we pick a Muslim/Muslim ticket, we know that we will be playing into the hands of the PDP and that is what they were going to campaign with.
'Now, we brought a candidate that they never expected would emerge. Successfully, we have announced our vice presidential candidate.
On Osinbajo being allegedly sponsored by Asiwaju Bola Ahmed Tinubu, Comrade Frank said somebody had to be sponsored for political office.
'Yes, people are saying that it is Bola Tinubu that brought Osinbajo. Let me tell you today that in politics, somebody must bring in somebody, whether you like it or not,' he said.
'Was it not (Olusegun) Obasanjo that brought Jonathan to limelight? Was it not Obasanjo that brought Umaru (Yar'Adua)?
'So, the issue of Tinubu bringing Osinbajo or anybody bringing Osinbajo does not play out in this context. The issue is that somebody has emerged.
'As far as we are concerned, the APC now has an impeccable vice presidential candidate, a man with character and fantastic background and a man that we believe can do the job and that is why we said unanimously that he should be our vice presidential candidate.'
Besides, Comrade Frank said General Buhari remains a man of integrity, notwithstanding the fact that he reneged on his promise never to contest election again after he lost at the polls in 2011.
According to him: 'Let me tell you that General Buhari made that statement. If he said before that he would not run for elective offices again and today, he said he would contest, I will support him.
'But before he made that statement, President Jonathan said he would do only one term. So, I don't see why the PDP will use that to campaign against the APC.
'Who first said I am not going to run? President Jonathan said it from the beginning that he would do one term. If you go to the Internet, you will see those clips of his one-term promise playing out.
'Former President Obasanjo said it clearly that Jonathan would do one term; their campaign manager said Jonathan would do one term. There are many leaders of the PDP who said that Jonathan would do one term.
'If Buhari said he would not run again since Jonathan promised to run for one term and he now sees that the President of Nigeria, who said clearly to his people that he would only do one term, has come out, whose word should be stronger?
'It should be the President of Nigeria because he is the person that everybody follows. When you are a father, everybody will want to follow your footsteps.
'So, I believe that Buhari is trying to follow the footsteps of Jonathan, saying, 'if Jonathan can come back after saying he would not run, I have every right to come out and run because after all that Jonathan has done, he is coming out to say he wants to be president again.''
On APC's selling point to the electorate ahead of the 2015 polls, Comrade Frank said: 'Our selling point is very clear. It is clear that the evil of corruption is pervading the land. It is not getting better, but getting worse.
'All sectors of the Jonathan administration are totally corrupt. Our health centres are not working and they claim are working. Majority of our roads are bad; they claim that these roads are good, but Nigerians are seeing these roads because they use them.
'Today, our economy is crashing because we could not manage it. Ask them what happened to our foreign reserve. All these point to corruption.
'If you have a president who believes in corruption; if you have a president who loves corruption, romances corruption instead of fighting it, what you are going to see is what we are facing today.'
He said insecurity in the country was caused by corruption, stressing that if the billions of Naira the government earmarked every year for security were judiciously spent, 'our security agents would have been more equipped, if possible, more than the American security because we put more money into security than any other sector.'
'But we lack the equipment. We have the men to do the job, but lack the equipment to do the job. We have the manpower to do the job, but they are not being encouraged to do the job." The Guardian