Workers groan over unpaid December salary … It's system challenge, not funds' shortage, says AGF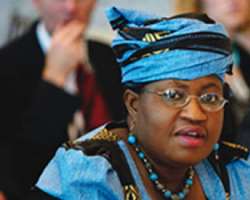 It was bleak Christmas for most federal government and states workers across the country as they spent the Yuletide without their salaries despite promises by employers. Specifically, at the Federal level, not even the assurances  and promise by the Coordinating Minister for the Economy and Minister of Finance, Dr  Ngozi Okonjo-Iweala that all Federal Government workers would be paid before December 25 came to pass as several agencies of the Federal Government could not pay their staff, some for more than two months, according to The Guardian's finding at the weekend.
Okonjo-Iweala had on December 17 while at the 2015 Federal Government budget briefing in Abuja allayed fears that the crude oil price slump was  going to affect workers' salaries and boasted that every single worker on Federal Government's pay roll would be paid before the Christmas.
But The Guardian's finding in Abuja Monday revealed that some workers in the following federal agencies did not receive their pay before last Christmas: Police, some cadre in the military; Science and Technology; Education; and Information.
However, while reacting to the development, the Accountant General of the Federation ( AGF), Mr. Jonah Otunla Monday attributed the inability to meet up with the payment schedule to the malfunctioning of the IT platform and maintained that it has nothing to do with funds shortage.
In the same vein, the National President of the Nigeria Civil Service Union (NCSU), Kiri Mohammed told The Guardian on phone Monday that state governments are copying a bad script from the Federal Government, which has failed to pay some of its workers December salaries as at Monday.
Mohammed revealed that 13 states of the federation were yet to pay December salaries as at Monday.
He explained: 'I can confirm to you that 13 state governments are yet to pay December salaries to their workers. As if this is not bad enough, the Federal Government is even worst than the state governments. As I speak to you, workers in the Federal Ministries of Education and that of Labour and Productivity are yet to collect their December salaries. Why should workers go and obtain loan to celebrate Christmas and New Year? I don't think anybody can justify this in any form.'
Mohammed added that the Rivers State government started paying its staffers December salaries only yesterday and that though Ekiti State has paid December salaries, September salaries are still outstanding as Governor Ayodele Fayose has ruled out paying September salaries at least not immediately.
He listed Plateau, Benue and Bauchi as states that derived pleasure in not paying their workers. Mohammed also said that the Ondo State Government was yet to pay its workers December salaries.
Also, a member of  staff of the News Agency of Nigeria (NAN), an agency of the Federal Ministry of Information who confirmed the development but asked not to be named,  said his agency and the Federal Radio Corporation of Nigeria ( FRCN) didn't pay their workers before Christmas.
However, our source confirmed that the FRCN staffers were paid after the Christmas while staffers of NAN as at Monday were yet to receive their salaries.    The source said that they could be paid Tuesday or a day after.
His words: 'He haven't been paid in spite of the Finance minister's strong assurance that everybody will be paid before Christmas. But our colleagues at the Voice of Nigeria (VOA) were paid before Christmas while those at the FRCN, I understand were paid after Christmas. But here in NAN and I think one or two other parastatals  and even some in the main ministry were  yet to receive alerts. But I am very optimistic that we could be paid before the end of today or tomorrow.'
Again, it was learnt that it was only yesterday that Officers and Men of the Nigeria Police Force began to receive alerts for their salaries while we were not able to ascertain if the salaries for the other cadre of the military who had not been paid have started receiving alerts for their pay.
Otunla said in spite of the challenge, his office has managed to clear as much as 80 per cent of the affected workers' pay  and reassured that the remaining 20 per cent will be cleared between today and tomorrow.
His words: 'The inability to pay every worker of the Federal Government has nothing to do with revenue. It arose as a result of system failure. The system is configured in such a way that when a  budget for particular Ministries, Departments Agencies (MDAs) is exhausted as planned from the beginning, it automatically shuts down. You know that after planning for MDAs from January, some of them without recourse to the planning, could go ahead to recruit additional staff who were not captured in the plan and this would now affect the budget for the agency from the system.
'But our consultant is on it. We didn't rest even on Christmas: We worked all through to ensure that we sort this out and effect payment of salaries to the people affected.    And as I speak to you, we have cleared more than 80 per cent of the affected staff. The remaining ones will surely be cleared between now and tomorrow to ensure that they celebrate the New Year well. I assure you every one is going to be paid. We are all concerned here, including my minister whom I am going  to brief now on the progress so far,' the AFG further stated. The Guardian