Kate Henshaw, Paul Okoye Storm's Calabar Carnival (Pictures)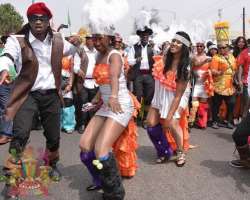 The calabar carnival is gradually getting better as the year goes by with various states and people from the dispora moving into the state just to either participate or have a glimps of the event.
This year's event was not an exception as more celebrities now see the carnival as an avenue of meeting with their fans and also as an avenue for relaxation.
The likes of actress, Kate Henshaw, singer, Paul Okoye and the governor of the state, Lyle Imoke, were seen parading along with the various houses in participation.
About Twenty-two states, 18 local government areas of Cross River State and more than eight cultural groups yesterday took part in the 2014 Calabar Festival Cultural Parade which started with the kids carnival before the adult event kicked off today 27th, December, 2014.