Black Christmas: Fires Guts Popular Hospital, Kills Chief Doctor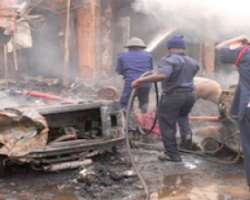 While others were caught in the euphoria of the festivity, the reverse was the case for the family of Chief Medical Doctor, Dr. Akintayo Oguntuase, at the Universal Specialist Hospital, as the Doctor died yesterday, December 25.
The private hospital which is located in Akure, Ondo state, gutted fire in the early hours of Christmas day.
The fire outbreak which reportedly lasted over two hours, started at 2.00 am in the mid night after an electric surge had occurred in the hospital.
Although patients, who were in the hospital when the incident occurred were rescued, medical equipment and other valuable items worth several millions of naira were destroyed.
According to an eyewitnesses: "When we discovered that the hospital was burning, we quickly put a call to the Fire Service Department but to our surprise, we were told that their vehicle is not in good shape and that they must repair the vehicle before they can come to our rescue."
The hospital located close to Akure High School was known for efficient medical service and it was well patronised by all classes of people.