Seasons Greetings from Nigeriafilms.com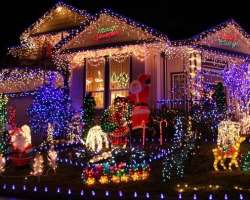 The season of love, joy and fun is here again and Nollywoodgists.com is deeply happy with the fans that has stayed loyal to the site all through its existence.
As the great fan of NigeriaFilms.Com, you have been able to make the news portal to be able to compete with international standard and have helped the organisation to stand tall in it's news reportage which has made us the readers choice of authentic and factual stories.
Christmas is the Blessed season which engages the whole world in a conspiracy of love! The lovely thing about Christmas is that it's compulsory, like a thunderstorm, and we all go through it together. Two things upon this changing earth can neither change nor end; the splendor of Christ's humble birth, the love of friend for friend.
As the year draws to an end, NigeriaFilms.Com cannot count all it's readers neither those that coments but duely respects and appreciates each an every comments and criticism on the site and as we all step into year 2015, it shall all be a year of God's wonders and total fulfillment.
May your Christmas be filled with special moment, warmth, peace and happiness, the joy of covered ones near, and wishing you all the joys of Christmas and happy new year in advance.
May happiness follow you wherever you go.