Aspiring Stars Storm Yvonne Nelson's Audition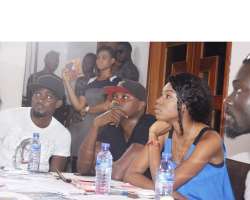 Every entertainer is taking every little avenue available to try to give back to the society in every little way they can and Ghanaian actress, Yvonne Nelson is not left out as she auditioned hundreds of aspiring actors for her upcoming movie.
Many celebs of her status would have gone for known faces in the industry so that the movie would be will respected and star studded but the diva has shown that every good actor started from the grassroots which what she has opted for.
The Saturday was rather a bright and sunny one as the aspiring actors took turns to interpret the various roles given to them. At the end of the exercise, those that did well were given a pink paper with a promise to be contacted.
The audition was held at the T Lounge, east Legon behind the PH hotel in Accra.